In case you were wondering what the ultimate skin-rejuvenating ingredient is, then let us tell you it's collagen. Not without a reason this substance is called the protein of youth – it keeps skin firm and supple. Simply youthful.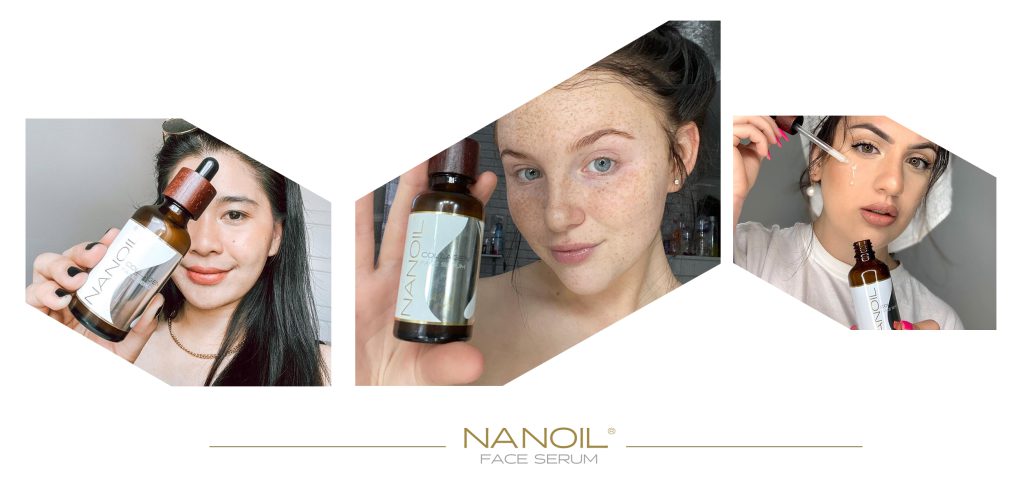 Now you may wonder why you need collagen skincare products if there is already collagen in your skin. Well, you're right, your skin produces collagen daily, but the "output" decreases with time. In other words: the older you get, the less collagen is produced in your body. That is why some ladies notice the first signs of ageing before turning 30. Sounds terrible? Sure it does. But don't you worry. You can overcome this obstacle easily.
Just incorporate Nanoil Collagen Face Serum into your beauty ritual. Why? Here is why.
The highest-quality formula in Nanoil Collagen Face Serum
Nanoil Collagen Face Serum is made up of the highest-quality vitamins, minerals and nutrients that aging skin needs to regenerate. Once it lacks collagen, the skin becomes pallid, tired and flabby. Nanoil Collagen Face Serum has everything such skin needs to become younger-looking again.
Anti-ageing strategy for everyone
Nanoil Collagen Face Serum shouldn't be associated mainly with mature skin care. Although it's able to minimize the appearance of wrinkles, it also offers an effective anti-ageing strategy for younger complexions. The sad truth is that sooner or later your skin will age. The good news is, however, that you can delay this process. All you need is the right skincare product.
And Nanoil Collagen Face Serum seems to be just the product for the job. Its formula is composed of naturally derived ingredients mixed in right proportions to prevent premature aging and erase wrinkles. What can you find in this dark glass bottle?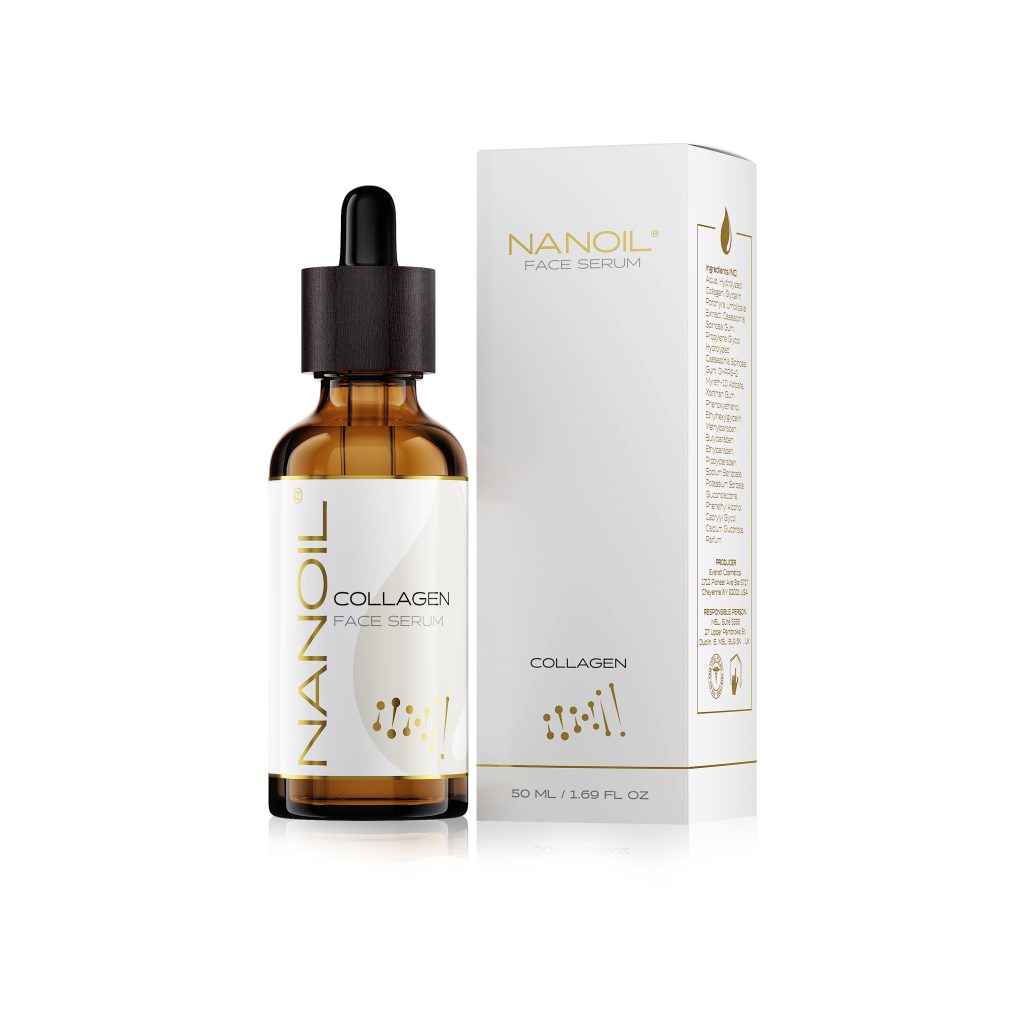 ANTI-AGEING INGREDIENT #1: Hydrolyzed collagen
Thanks to its lower molecular weight, hydrolyzed collagen goes through all skin layers effortlessly. Removes all common signs of ageing and fatigue from off the face. Increases moisture levels in the skin and therefore makes it suppler and smoother. Since it's fast-absorbing, it doesn't interfere with the skincare or makeup products applied straight after.
ANTI-AGEING INGREDIENT #2: Red Nori algae
Being known as a natural UV shield, red algae has the power to keep skin safe from photo-ageing and pigmentation spots. This marine organism stores many vitamins and minerals, which makes it a rich source of nutrients for skin at all ages. Thanks to a daily portion of red algae, skin will become better-looking in no time.
ANTI-AGEING INGREDIENT #3: Tara tree extract
This one plays one, yet super important role that shouldn't be neglected. Tara tree extract forms an invisible protective coating on the skin to keep the water from evaporating. In this way, skin remains moisturized for significantly longer.
Collagen serum – how to use it
Regularly! Twice a day: morning and evening.
First, cleanse the skin thoroughly to get rid of sebum and dirt that may impede the serum from being absorbed fully. If you use a face tonic, do it right before applying Nanoil Collagen Face Serum, which you can spread on the face, neck and chest. When you feel that the whole portion of Nanoil serum is already deep within your skin, help it stay there by applying a face cream of your choice. And that's it.
Use this face serum for a couple of weeks to see significantly smoother and firmer skin. The youthful-looking complexion is within your reach.
Effects you have been waiting for
Indeed, only a couple of weeks suffice to prevent your skin from ageing. Here is what you get if you decide to introduce Nanoil Collagen Face Serum to your daily skin ritual:
visible reduction of crow's feet and laugh lines
boosted hydration and nourishment
more elastic and less saggy skin
smooth skin that is pleasant to the touch
zero signs of fatigue
protection from urban pollution and toxins
natural UV filter
This is the end of tired-looking, pallid and flabby skin that makes you look older than you really are! Upgrade your skin ritual by introducing Nanoil Collagen Face Serum, and enjoy the youthful-looking complexion you deserve.
For more information, before and after photos, and testimonials, visit nanoil.co.uk.