Coconut butter is a natural substitute for hair, nail and skin products. It's often compared to linseed oil which has similar qualities. It usually wins because of the enchanting aroma. Is this the only difference?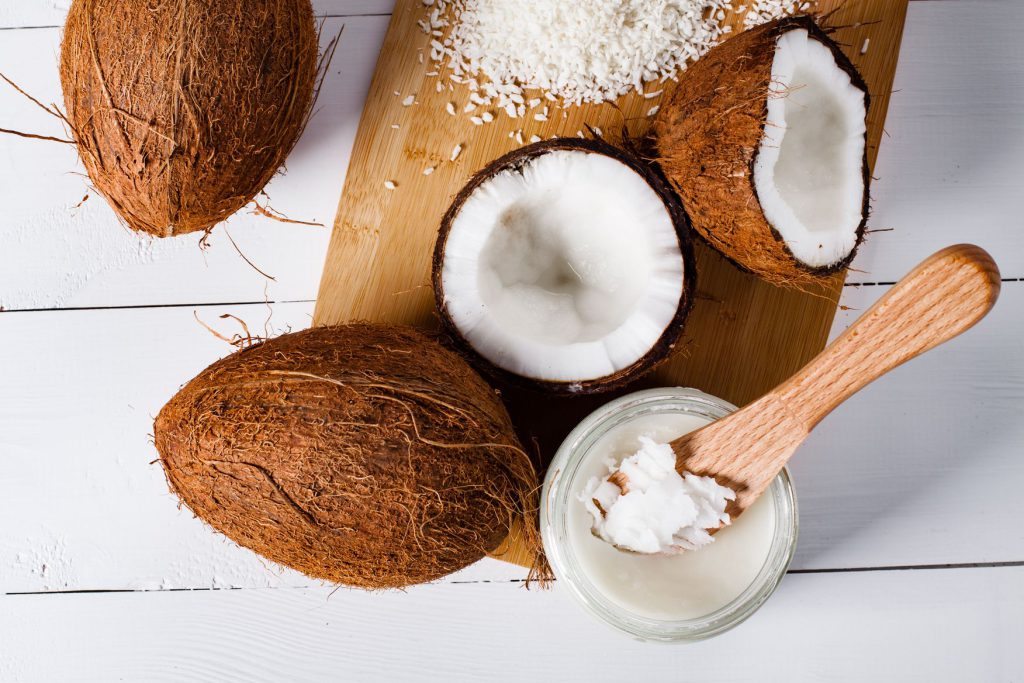 Coconut oil hasn't been always so popular. Not long time ago, it was mistaken for palm oil (maybe it's because it's extracted from the nuts of coconut palm). Now, the cold-pressed coconut oil is a popular ingredient in food and cosmetics. How it works and how you can use it?
Coconut oil. Exotics in beauty care
It's mostly made up of UFA, unsaturated fatty acids, that are found in both hair structure and protective hydro-lipid coat on the skin. Moreover, coconut oil is rich in a full set of vitamins and minerals, including vitamin E, zinc, magnesium, folic acid, vitamin C.
Coconut oil is known for brilliant hydrating properties yet it doesn't deliver water to cells. It moisturises through locking water in and keeping the right moisture level. The oil delivers nutrients, adds softness, protects against the UV radiation and reinforces.
Linseed oil. Caring with the power of grain
The treasure trove of essential omega-3 and omega-6 fatty acids. You must provide them from the outside because the body isn't able to produce them. Linseed oil isn't just about the balance of acids. It also contains precious micro and macro-nutrients.
Linseed oil is more popular in the kitchen but lots of women make use of its beauty benefits. It's an ingredient in facial creams and body lotions, keeping hydration and regulating the sebum secretion (so it works for different skin types). Linseed oil soothes irritations, softens and restores radiance.
Coconut oil vs linseed oil – which one's better?
Both coconut oil and linseed oil are interesting components of cosmetics. They both can be used solo and have similar qualities yet each one has a unique feature. Linseed oil is better for acne skin, damaged hair and when you need a lightweight product. On the other hand, coconut oil mostly works for normal, low porosity hair. Its use is a bit more problematic due to the creamy consistency.