We started paying more attention to what ingredients were used in the cosmetics we intend to buy. Some of them are cosmetic butter (for instance, coconut, shea, cocoa) – the source of valuable vitamins, minerals and fatty acids.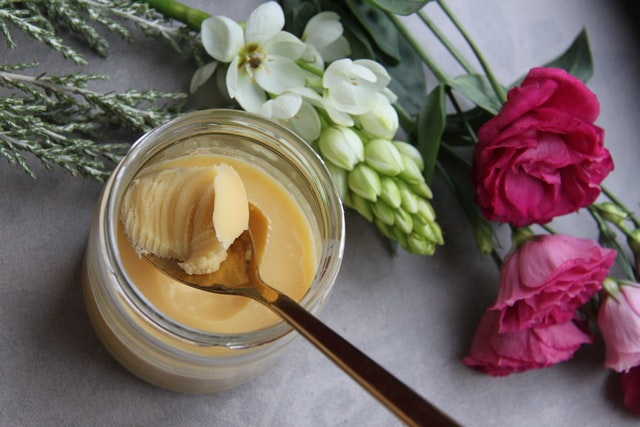 Cosmetic butter is the basic vegetable raw materials used in the production of natural cosmetics. In many ways they are very similar to oils:
they contain a range of fatty acids, vitamins and minerals,
they often replace face creams, body lotions and hair masks,
they are suitable to use solo.
THE MOST POPULAR COSMETIC BUTTERS
Coconut oil – the source of antioxidant vitamin E, strengthening vitamin A and the irreplaceable lauric acid. It belongs to the group of cosmetic butters because, at a room temperature, they remain in the form of a white creamy butter. The substance can be used both internally and externally. Moreover, it restores skin's hydro-lipid balance, soothes irritations and nourishes. Coconut oil works as a shield that protects against water loss and prevents hair from splitting. Also, it increases softness and shine.
Shea butter – a creamy fat extracted from the nut of the African shea tree (Vitellaria paradoxa). It contains vitamin A and E and a comparable amount of saturated and unsaturated fatty acids. Shea butter also comprises a diversity of phytosterols, that strengthen and improve cell-regeneration processes. Rubbing natural shea butter into the skin makes it nourished, moisturized better, firmer and even more beautiful. This substance is especially recommended for a dry, allergy-prone and atopic skin. It is less often used in hair care.
Coconut oil or shea butter?
The two butters are very often compared and uncertainty pops out: is it better to use coconut oil or go for shea butter? The choice depends on one's personal preferences and needs. Hair will benefit more from coconut oil while the skin will be fond of shea butter. Although, it is not a rule.
Cocoa butter – it smells like chocolate and is extracted from the cocoa bean. It has the ability to regenerate and works as a shield that protects against harmful external factors. It works well in dry, irritated, flaky or mature skin care. Natural cocoa butter restores firmness, prevents dehydration, increases flexibility and slows down the ageing process. If we apply it to the hair, it will visibly strengthen it, bring relief to scalp irritations, prevent ends from splitting and inhibit excessive hair loss.