If you're looking for the best substance that will be able to repair as well as protect and beautify your hairdo – you must reach for natural oils.
These are the only products that have the ability to nourish hair without doing harm to its health and beauty.
Hair oils – what are these?
Hair oils have the ability to penetrate the skin – into hair bulbs and between cuticles, regenerate and provide complex hair care. Oils have been known as truly natural health and beauty conditioning elixirs. These substances are extracted through cold-pressing of seeds, stones and flowers that are known for their powerful healing properties. Hair oils are natural, safe, free from parabens and silicones.
Oils make a powerful weapon when one fights for beautiful hair. If you want to declare war on each and every damaged strand, go for the best product for hair oiling available on the market.
Hair oil – why should you choose Nanoil?
Nanoil manufacturer has treated the creation of this hair product seriously and professionally. The brand has focused on 3 basic hair types that need different hair care, different oils and substances that enhance the product. What is more, Nanoil doesn't contain any damaging, comedogenic and toxic substances which could damage hair and dehydrate the scalp.
Moreover, Nanoil hair oil will surprise you with innovative and unique ingredients that have a direct influence on the scalp and bulbs – stimulate them and force hair to grow. High-quality components are able to stimulate bulbs that have been nonactivated so far. Your hairdo will get thicker and voluminous.
Nanoil is the only hair oil that offers so carefully selected ingredients. It seems unbelievable. Perfect composition of substances that match your hair type (hair porosity).
Nanoil – natural oil that matches hair porosity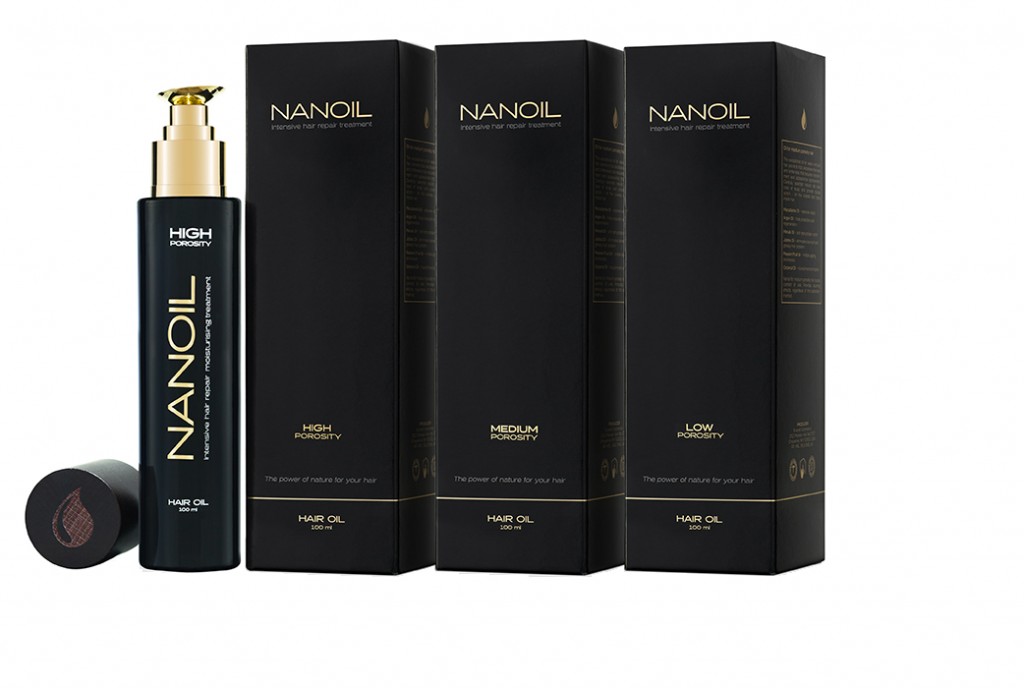 Nanoil brand has profoundly analysed the subject of nourishing hair. There are 3 hair types (or 3 different hair porosities), therefore Nanoil created 3 versions of hair oil. Each version is responsible for different porosity.
Nanoil website shows detailed information on hair porosity. You can find out how to identify the porosity and which oil is suitable for your hair type.
What is more, descriptions of different types of hair porosity are presented with high-quality pictures.
It's high time to pamper your hair with finest quality hair care!
Nanoil hair oil – why it outclasses the competition
Nanoil – high-quality natural oils, perfectly suitable for each of 3 hair types. The oils have a positive influence on the scalp condition, shield hair from damage and protect from roots to tips.
Nanoil hair oil nourishes hair, bulbs but also the scalp by controlling processes on the scalp.
It is free from parabens, silicones, alcohols and other comedogenic substances.
Nanoil hair oil is enriched with UV filter that protects hair from damaging action of the sunlight.
Nanoil hair oil contains innovative components that enhance and speed up hair growth, and boost volume (baicapil and kerastim complex).
Each of the 3 Nanoil versions is the synergy of ingredients aimed at the individual needs of hair.
Each version of Nanoil includes substances that boost healthy hair growth and enhance the beauty of your hairdo. These include: vitamins, panthenol, keratin, silk and lanoline.
Nanoil hair oil has been created with attention to detail. It comes in an elegant and stylish glass bottle of cylindric shape. The bottle has an infallible pump which precisely measures out the oil.
One of the most delightful qualities of Nanoil is an endless number of application methods. It can be used as a hair mask, an intensive overnight treatment or in the form of serum applied to dry or damp hair. It can also work as a styling lotion, beautifying emulsion, heat protectant or hair conditioning product. It is an iconic cosmetic which leaves other hair care products behind.