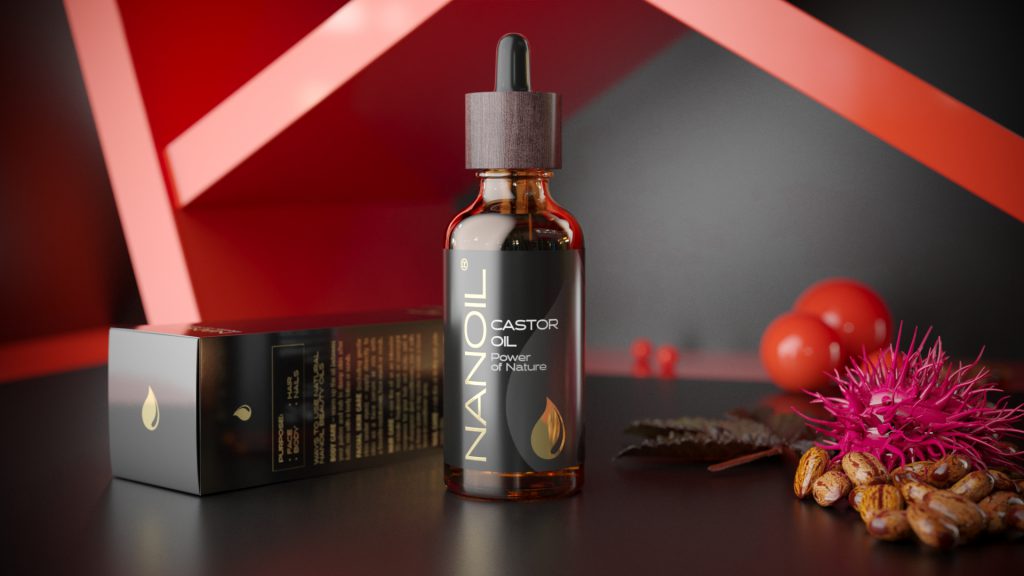 Castor oil is one of the most popular cosmetic ingredients. A remedy for lashes, brows, nails, skin and hair, improving their condition and beautifying them. Nanoil Castor Oil is all-natural, unrefined, cold-pressed. It is a treasure trove of precious fatty acids and essential nutrients. See what effects it produces.
Castor oil for skin, hair and nails
Castor bean plant is a plant that castor oil is derived from. It is rich in fatty acids which are valuable for our skin and hair, including ricinoleic, linoleic, stearic and oleic acids. Castor oil is a thick, colorless or slightly yellow liquid and has no smell. Nanoil Castor Oil is slightly lighter than other oils. Thanks to nutrients and vitamins A and E, it has many uses in beauty routine.
Effect of castor oil
Castor oil is similar to keratin found in the human body, therefore, it is able to penetrate the deepest layers of the skin, hair and nails to promote their regeneration.
It is extremely popular for its beneficial effect on hair. Added to a hair mask or conditioner, it makes them work better. It also works as a brilliant serum for hair ends, stopping them from splitting and breaking off. Applied on the scalp, it nourishes the hair follicles and stimulates growth of strong, healthy hair. Castor oil also helps handle dandruff, scalp irritations, itchiness and eczema. It prevents hair damage from heat and mechanical injuries by creating a natural protective barrier.
Nanoil Castor Oil is a great eyebrow and eyelash conditioner. Apply it regularly to get darker, shinier and healthier brows and lashes. Castor bean oil strengthens hair follicles, speeds up hair growth and prevents hair loss.
Looking for a remedy to get rid of imperfections and inflammation? Castor oil has antibacterial and anti-inflammatory properties, therefore it helps battle acne breakouts, moisturizes the skin and repairs its protective barrier. It is a perfect oil for face washing and oil cleansing methods (removing make-up with oils).
Because of being rich and thick, castor oil is hardly ever used on the skin alone, however, it is an ideal booster for moisturizing products – you enhance their effects by adding a few drops of the oil. Use the oil for thigh massage to get rid of orange peel and stretch marks.
Benefits of Nanoil Castor Oil
it has antibacterial, antifungal and anti-inflammatory effects
it is 100 percent organic, natural, cold-pressed
it has an Ecocert mark assigned to best eco-friendly products
it protects the skin from damage by strengthening its protective coating
it speeds up growth of hair, brows and lashes
it has hydrating and lubricating effects
it slightly darkens the hair, lashes and brows and makes them appear thicker
Nanoil castor oil comes in an elegant glass bottle with a precision dropper for easy dosage. It is extremely efficient and we can use the power of vitamins and minerals found in castor plants for many months. Its eco-friendliness is confirmed by the Ecocert label while the terrific effect is confirmed by reviews posted by happy users.
Get your Nanoil castor oil now – go to www.nanoil.co.uk and try the amazing oil and other products from Nanoil.