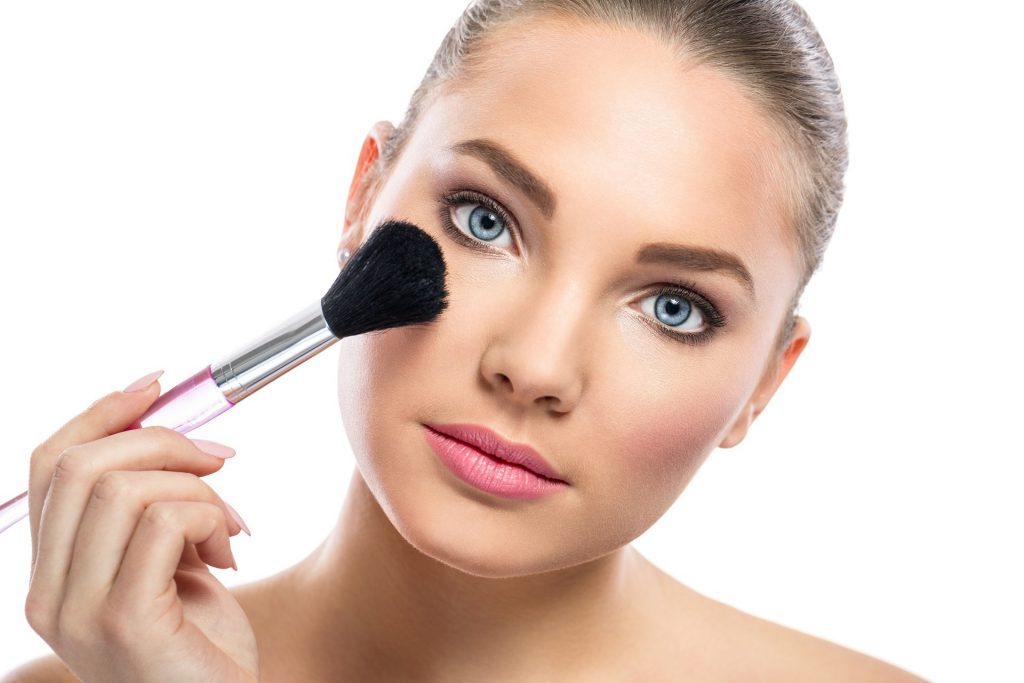 Full coverage foundation, as the name speaks for itself, is expected to cover up all skin blemishes and leave skin flawless. As if by magic, acne, spots, blemishes and discolourations vanish due to this type of foundation. Spider veins are hidden and the fatigue together with tiredness, which are clear to see after a sleepless night, are miraculously covered up under a beige coat. For long. But the lifespan of the colour cosmetic depends on the qualities it posses. How to choose the best full coverage foundation? Find out which ones receive positive feedback from bloggers and makeup artists.
Who should use full coverage foundation?
Naturally, full coverage foundation offers an ideal solution to improve the apperance of skin with imperfections, pimples and discolourations. In most cases, such a foundation has mattifying properties, therefore people with oily or combination skin should also reach for it. On the flip side, if used for long, especially by women with dry skin, full coverage foundation might dry skin even more. In such situations, a good moisturising cream or an intensively hydrating primer might save the day.
What qualities should a good full coverage foundation have?
Contrary to popular belief, this type of foundation shouldn't be too heavy. Actually, if you notice that your foundation creates a kind of mask, you may expect that your skin condition will get worse soon. The truth is, face skin should be given the ability to breathe freely even with a layer or foundation on it. Moreover, skin pores should be hidden under the foundation and be invisible, yet they can't be clogged. Full coverage foundation should be long-lasting, efficient and easy to apply.
Does a full coverage foundation have to be expensive?
Sometimes foundations available in drugstores can be compared to the prestigious beauty products. Price doesn't play an important role here because selecting a foundation is a very individual matter. It happens that a perfect shade can be found among the products which price is lower than average. Obviously, the top-shelf products are frequently iconic, and there are few similar beauty products that might come up to them. This applies to Estee Lauder or Kat von D foundations, for example.
The best full coverage foundations according to bloggers and makeup artists
PAESE, LONG COVER FLUID
A perfect foundation providing full coverage and prolonged wear that can be applied by people with dry skin. An ultra-light, easy to use, efficient product that doesn't create the above-mentioned mask effect despite being full coverage. The consistency of the foundation evens skin tone and effortlessly covers up all skin imperfections, keeping face skin fresh and radiant for the entire day, without any touch ups. It's undisputable advantage, apart from the coverage, is the fact that Paese Long Cover Fluid hydrates skin and relieves irritations. It contains vitamins A, C and E, pro-vitamin B5 and shea butter. Another positive aspect of this foundation is that it doesn't stain clothes. Sadly, it's available in 4 shades only.
KAT VON D, LOCK-IT TATTOO FOUNDATION
This liquid foundation Lock-It is a real gem among the entire Kat von D offer. It's light, easy to spread on face and create the impression of flawless skin.
A huge advantage of Lock-It foundation is its efficiency. Just a really small dose of the colour cosmetic is all it takes to even skin tone, mattify it and cover up the blemishes. One-fifth of Kat von D foundation is made from pigments so as to provide full coverage and prolonged wear.
ESTEE LAUDER, DOUBLE WEAR
It's a classic when it comes to full coverage foundations with extended wear. Its formula is runny which significantly facilitates application. Another good side of Double Wear is the wide colour range. This foundation fixes fast and doesn't stain clothes. The truth is, Double Wear by Estee Lauder is a popularity record-breaker when it comes to wedding make-up, and basically any other type of makeup that is expected to stay perfect for many hours. This is an iconic cosmetic that hasn't been outrulled yet, remaining unbeatable in terms of coverage and wear.
REVLON, COLORSTAY
This Revlon foundation is available in two versions: either to oily/combination and dry skin. It's advantage is the wide colour range. Although it doesn't belong to the group of the lightest foundations, it's exceptionally long-wearing. Many bloggers claim that this is one of the best drugstore full coverage foundations. Revlon Colorstay is supposed to remain untouched for a few hours.
DERMACOL, CAVIAR LONG STAY MAKE-UP & CORRECTOR
Dermacol Caviar Long Stay Make-Up & Corrector is a handy and easy to use packaging that houses a foundation (that has to be applied with a spatula), with a lid housing a concealer. Thanks to this, we can be sure that the concealer will match the shade of the foundnation. This Dermacol product is good at mattifying skin and is easy to apply. It's worth bearing in mind that it's Dermacol brand that was the first one to launch the best full coverage foundation that has ever been created. However, Caviar Long Stay isn't as heavy as the well-known 'regular' Dermacol. It doesn't create mask on face. When it comes to the composition, it was enriched with caviar extract, it moisturizes, protects and nourishes skin. It also deals with skin discolourations really well.
NARS, NATURAL RADIANT LONGWEAR FOUNDATION
Nars launched a full coverage foundation that doesn't left skin matte, but highlighted. Therefore, this beauty product is a good solution for women with dry skin. It remains untouched for many hours and takes care of skin that looks well-rested and fresh. This foundation by Nars is light and easy to apply. It's good at covering up skin imperfections. Last but not least, Natural Radiant Longwear Foundation is enriched with raspberry, watermelon and apple extracts that improve skin condition.
MAX FACTOR, LASTING PERFORMANCE
This foundation is a living legend. Max Factor brand have never introduced any changes to the packaging or its composition. This is an oil-free product of surprisingly light consistency resembling an emulsion. This advanced formula provides full coverage and prolonged wear that lasts up to 8 hours. Max Factor Lasting Performance doesn't stain clothes. It's mainly recommended for combination and oily skin types.