Do you dream of beautiful and flawless eyebrows? This dream can come true! All you need to do is find the right brow-styling product to create a unique brow look for any occasion. Eyebrow mascara is the biggest hit of the season. It is the perfect solution for any woman who wants to improve her look. Eyebrow mascara will make your daily brow makeup simple, fun, and, above all, long-wear. Regardless of your style, eyebrow mascara can be the key to achieving the perfect brow look whenever you need it! Check out the best brow mascara RANKING, discover the power of this product, and let your eyebrows shine!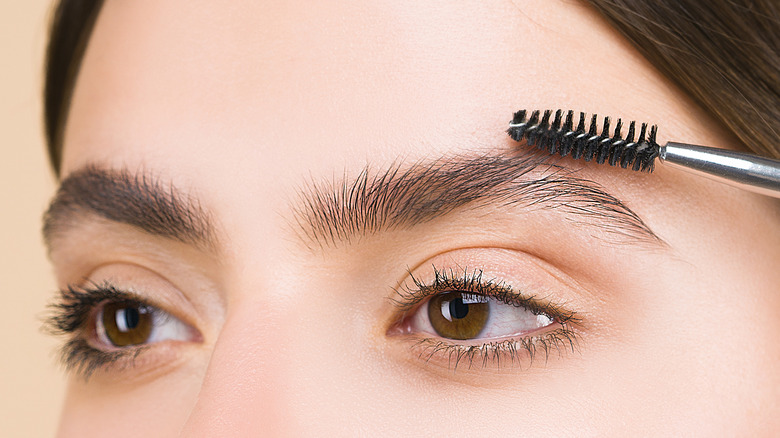 Eyebrow mascara – how to use it?
Eyebrow mascara is a great solution for a simple and quick way to create durable eyebrow makeup. All you need to do is first prep your eyebrows by cleansing them with an oil-free product. Then brush through your eyebrows with the brush attached to the mascara. Start from the base of your eyebrows, using gentle, short strokes following the direction of hair growth. Define your eyebrows and fill in any gaps. Remember about moderation! You can add another coat if needed. After applying the eyebrow mascara, brush through the brows to remove excess product and give your eyebrows a natural look. Done!
Eyebrow Mascara RANKING. How to choose the best brow mascara?
1# NANOBROW SHAPE MASCARA
A professional eyebrow mascara is eagerly recommended by female consumers. It comes at an attractive price considering its quality and efficiency. The popular brow mascara is available in three natural shades, which you can easily match to your eyebrow color. This brow mascara is a HIT! The long-wear Nanobrow eyebrow mascara can camouflage gaps and defects, add definition to your eyebrows, visually thicken them, and make them fuller easily! This waterproof brow mascara is the perfect option for any woman who dreams of a phenomenal eyebrow look effortlessly. It will work well on both thick and sparse eyebrows – for everyday and special occasions.
2# YSL COUTURE MASCARA
This styling eyebrow mascara comes at an average price-to-quality ratio. Users complain that the mascara comes with a weird wand that scoops out too much product. This gel eyebrow mascara contains semi-matte pigments, which may be too weak for special occasions. The long-wear YSL eyebrow mascara will work on any type of eyebrows, but you need to be careful not to apply too much of it. It intensifies the color of the eyebrows, giving them extra definition. Not every woman will like the shiny effect. The tinted eyebrow mascara styles and sets the eyebrows in the desired shape for hours.
3# DIOR DIORSHOW ON SET BROW
A waterproof eyebrow mascara that delivers effects for up to 24 hours. Users complain about its exorbitant price. It works especially well for special occasions, where durability and precision are important, while for everyday wear it may prove too strong. You can find this brow mascara in both transparent and neutral options. It provides the effect of defined brow makeup. The small brush may not appeal to every user, but on thick, yet sparse eyebrows it works really well. This eyebrow-shaping mascara is easy to apply, so even the beginners can handle it.
4# BENEFIT COSMETICS GIMME BROW+ MINI
A brow mascara that works well on sparse, thin eyebrows. On the other hand, if your brows are thick, it may not give such an effect. The mini version of this eyebrow mascara can fit into any purse, so you can take it with you anywhere. Unfortunately, it's expensive considering its quality and efficiency. This gel brow mascara adds volume to your eyebrows, defines them nicely, and fills them in with natural color. The microfibers cling tightly to the skin and brow hairs but can overburden them a bit. Users complain about the stiff finish after applying the product. This waterproof brow mascara works especially well for important evening events – for daytime makeup it is too strong.
5# LORD & BERRY MUST HAVE TINTED BROW MASCARA
A brow mascara that provides a natural finish to your makeup. If you like the no-makeup brow look, this product will appeal to you. It is not the cheapest, but it delivers the desired results. It fills in the eyebrows with neutral color, disciplines them, and adds volume. It may not work for special occasions, as it's not a very long-wear brow mascara, but it does a good job for everyday wear. You can find this thickening eyebrow mascara in three shades to suit your brow color. It works well on both thin and thick eyebrows with gaps.
6# LANCOME SOURCILS STYLER BROW MASCARA
This transparent brow mascara is also available in three neutral shades. You can find it at an affordable price considering its quality. Unfortunately, it's not an efficient brow mascara, so it won't last a long time of regular use. However, it works well for daytime makeup. It is not a long-lasting brow mascara, but it can last in undemanding conditions. It emphasizes the shape and natural color of eyebrows and makes them look neat and thicker. This eyebrow mascara with a small brush may not appeal to every woman, as the applicator is very wide and may not work on thin and sparse eyebrows.
Eyebrow mascara – which one to choose?
Choosing the right brow mascara depends primarily on your preferences and the desired effect. We have prepared some tips for you to help you choose a good brow mascara:
Color: Choose an eyebrow mascara that is close to the natural color of your eyebrows or matches your hair color. If you choose a shade that is too dark or too fair can make your eyebrows look fake.
Consistency: Pay attention to the consistency of your eyebrow mascara. Some have a gel formula, while others are creamier. Choose the one that is most comfortable to apply and will give you the desired effect.
Applicator: check the type of brow mascara applicator. The brush can come in different shapes and sizes, such as thin and precise or thicker ones for a more natural effect. Choose one that is most suitable for you.
Durability: Pay attention to the durability of the eyebrow mascara. Look for a product that is waterproof or long-wear to make sure that your eyebrows will be precisely styled all day long.
Feedback and reviews: Read reviews from other users who have tested a particular brow mascara. This can give you insight into the quality and effectiveness of the product and help you make a better choice.