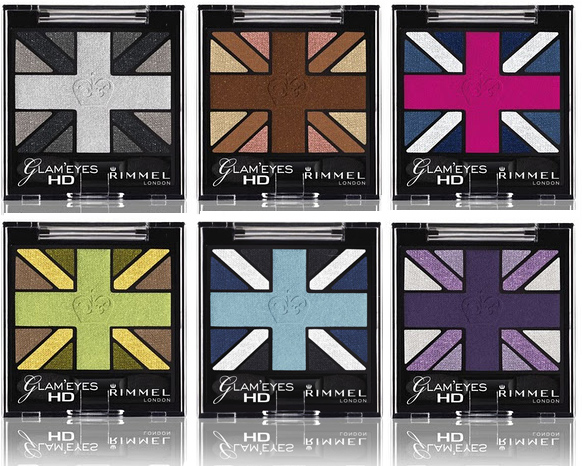 Who wouldn't like to look like a Queen? Well, let's say, princess? Kate, duchess of Cambridge, is well known for her perfect make-up. Now you can easily achieve an immaculate look without the help of a professional make-up artist. All you need is one of the Rimmel Glam'Eyes HD eye shadow pallet.
Those combo shades are soft and they blend easily creating the deep smoky eye look. Thanks to the rich pigmentation, you can create sophisticated eye make-up with the single stroke of a brush. The application is very simple but if you still have a problem using the shadows correctly, you can learn how use them from the picture that you find at the back of the pallet. All shadows are transfer-proof and they stay in place for long hours without smudging, creasing or fading. Small traces of shimmer make your eyes shine in the sunlight. Beware; the cat eye created with the help of this pallet may not fit into your office dress code. The Rimmel Glam'Eyes HD shadows have been design for strong, night make-up. If you put the shadows on the damp skin, the colours will appear more intense and vibrant.
Rimmel is a British born company that is proud of its origin. The palate comes in a square, plastic container and shadows are arranged to create the Union Jack flag. The names of each pallet also correspond to British heritage and culture. We can pick the Black Cab pallet, Purple Reign, English Oak, Green Park and many more. In the middle of each pallet, we can find the main shade in the shape of a crown- the Rimmel trademark sign. Each Glam 'Eyes HD eye shadow pallet contains four shades. The wide of colour range is wide and everybody is bound to find something for herself.
To make the quick touch up on the go the producer included the small, sponge applicator. The price is affordable and it costs £6.99 depending on the shop. Invest in your glamorous look today!