No doubt that Indian women have the most beautiful hair in the World. Probably not once or twice you have been wondering about how they do it. Well, their secret is hidden in the regular use of natural oils and systematic hair oiling. If you want your hair to be smooth, moisturised and glossy, you have to take right care of them.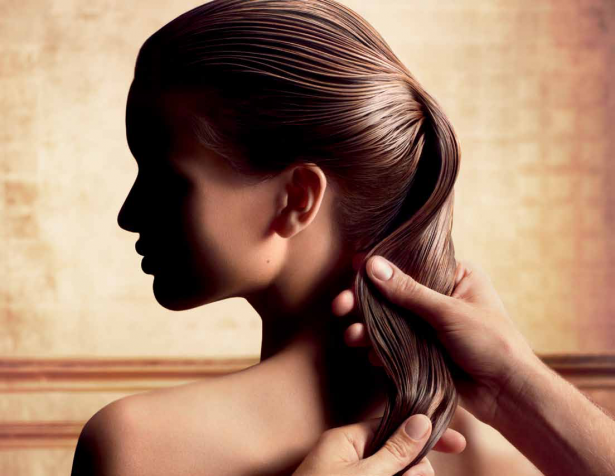 Hair oiling ritual.
Did you know that average temperature in India is 40°C in the prospect of the year? What is more, the humidity in air is really high. Sooner or later someone had to figure out the way to protect hair against such a difficult atmospheric factors. Hair oiling and body oil treatment were great solution. After all, it protects against damages caused by excess evaporation of water and at the same time dryness on the surface of skin and hair. Similar task fulfils traditional Indian outfit, i.e. sari. However, it is the oil treatment that provides hair with beautiful appearance and right condition.
Which oil is used by the Indian women for hair care? Widely available is coconut oil, that protects against harmful sun radiation. It prevents water and keratin loss. Perfectly nourishes and regenerates – due to content of saturated fatty acids. It rinses easy and fast with use of herbal shampoo or powder Shikakai. Coconut oil is recommended also for the people who perform hair oiling for the first time.
In India are used several hundreds of other oils. In combination with herbs and essential oils, these have truly amazing action. Oils are easily available, and the best part is that some of them are used in the cuisine. Oils can be purchased in India in very affordable price. It is related to the fact that the plants and herbs used for obtaining oil are common for the country and cultivated on the huge plantations.
Visit at the Indian hairdresser.
If you ever find yourself on the trip to India, do not hesitate to try the local hairdresser's services. Perhaps calling tight space with two chairs and little light a hair salon is too much. Hairdressers in India are only men. No one can perform hair oiling or beard shaving better than them. They use natural cosmetics (oils, Ayurvedic mists, herbal creams) and special accessories (razors and threads). Average hair care treatment or shave of facial hair takes about an hour. And how does the hair oiling at Indian hairdresser look? Hair of Indian women are long and thick. For the care of them are sometimes necessary several hundreds of ml of oil. The oil is applied on scalp and hair. Hairdresser performs delicate massage, then wrings out (literally!) hair and washes them with herbal shampoo. Effect? Healthy, beautiful and well taken care of hair.
Hair oiling European style.
Hair of Asian and European women are different when it comes to the porosity, length, genetic conditions and climate. So, oils used by the Indian women will not work for the hair of European women. What should you do when you want to use Indian oils? Treat them as a hair mask or a conditioner. Use this cosmetic few hours before hair wash, on damp or dry hair. On the other side, however, oil will be entirely absorbed if you leave it overnight. The longer your hair the more oil you must use. For the protection of hair ends, use only few drops of the product.
Indian oils and hair type.
Before you proceed with hair oiling you must determine what dermatological problem you want to deal with. Dry and damaged hair are best conditioned with almond oil, while oily hair – with lemon peel oil or laurel oil. Weak hair strengthen with amla, bhringraj or neem oil. These are typically Indian cosmetics, that have medicinal properties. For the people who deal with dandruff great will be mustard oil. Did you know that some oils stimulate hair growth? So, don't be surprised if after regular face cleanse with oils you start experiencing some down.
In India hair oil treatment is just one of conditioning treatments. For colourisation, darkening the colour or emphasise of natural highlights are usually used herbal mixes. The most popular is henna. There are few types of it: black, red and colourless. Colourisation properties has also jasmine. If added to oil or other cosmetic, it will provide shine boost and make hair look beautiful.