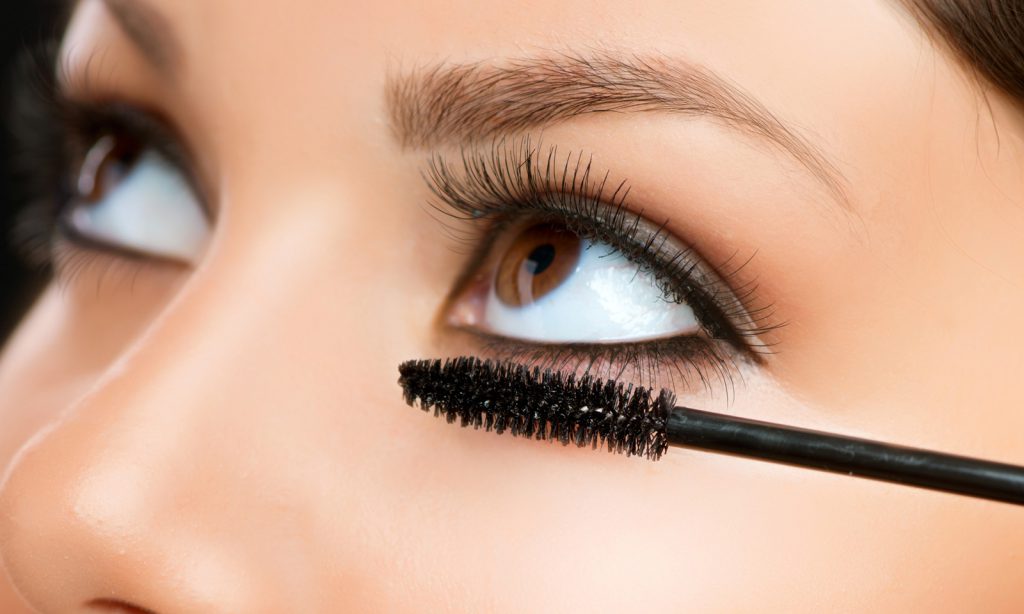 Coating eyelashes with mascara is a rewarding procedure because with just one brush glide our looks improves. Mascara doesn't only colour eyelashes to a particular colour but also enables to correct the shape of eyes. Nevertheless, choosing the right mascara is just half the battle; the way of applying the product also matters. Although many women start putting a mascara on when they are teenagers, a great majority of them keep using the colour cosmetic inaccurately. Indeed, applying mascara coats to lashes requires more skills than putting socks on. How to apply mascara and how to prevent clumping? What are properties of mascara and what ingredients should it have? Finally, how to take care of mascara and when to throw it away?
How to apply mascara coats?
Actually, a better question is: "How NOT to apply mascara coats?" Surely, it shouldn't be done the same way as women used to apply mascara in the '60s when their eyelashes were clumpy and stiff. There is no universal recipe for mascaraing since the way of applying the cosmetic depends on the shape of eyes. For example, when eyes are downturned, it's better to resign from coating the lower eyelashes. On the other hand, when eyelashes are really long then intensive make-up will transform them into vertical lines and distort the shape of eyes. In this case it's advised to limit yourself to accentuating lower eyelashes only by dabbing them delicately with a mascara wand's tip. When it comes to short lashes that are scantily thick, before applying coats, dust the eyelashes using a translucent loose powder. Thanks to this trick your eyelashes will become longer and thicker without getting clumpy.
How to avoid clumpy mascara?
If you notice your eyelashes being clumpy after mascaraing, reach for a special comb – either metal or plastic. Under no circumstances should you use a pin to separate eyelashes. This might damage eyes.
To prevent clumpy lashes in the first place, it's worth giving a try to various techniques of applying mascara (if the one used so far appears to be inappropriate). What does that mean? While coating upper eyelashes, the brush must be held in such a way to, by delicate side to side motions, make the lashes get among the bristle. Only then can the brush be moved upwards. Thanks to this technique, each lash will be coated with the same amount of mascara. When it comes to eyelashes growing in the corners of eyes, they have to be treated with the tip of the brush.
This 'clumpy' problem might be intensified due to the mascara which expiration date is getting closer. If a mascara is dry, it's a good idea to add a drop of an eye make-up removing milk. However, this technique isn't recommended when a mascara's composition features cashmere. Then, it's highly possible that the mascara will start flaking off and getting brittle.
Mascara – composition & properties
Those are wrong who think that all a mascara does is colouring eyelashes only – actually, this product extends, thickens, curls and conditions lashes too. These are the shape of mascara brush and the composition that determine the cosmetic's properties. Vitamin E, ceramides and cashmere proteins reinforce eyelashes. Keratin, plant waxes or beeswax – they nourish eyelashes. When it comes to provitamin of B5 (panthenol), chitosan, and again plant waxes and beeswax – they replenish eyelashes with water and increase their flexibility. Thickening properties are displayed by a mascara rich in aluminium as well as silk, cashmere and mohair. Gloss delivering properties are owed to silicone. Finally, latex fulfils two tasks: it extends mascara's lifespan and enhances its hold. It's worth realizing that women who wear contact lenses should avoid mascaras containing thickening and extending particles because such cosmetics might flake off.
When to throw a mascara away?
Usually, a mascara is safe to use for 6 months. Each mascara packaging features PAO sign, which is an image of open jar with a number of months on it that indicates the period within the product should be used up. Moreover, a mascara that is past its expiration date changes its consistency. To clarify, it becomes dry, smells weird and flakes off. This is another indicator that should encourage us to throw the product away.
Mascara's formula is based on water which increases the risk of bacteria and other micro-organisms multiplication, hence this short expiration date. Besides, mascara is used near eyes so if expired, it may cause a lot of damage.
How to extend the lifespan of a mascara?
A brush that a mascara tube goes with should be precisely washed at least once a week. Only this technique enables to remove the dried mascara residues and preserve the original shape of bristle. Furthermore, thanks to this we minimize the risk of clumpy lashes and which is strictly connected with this – their unnecessary overburdening. Additionally, clean mascara brush prevents premature drying of the cosmetic and consequently it extends the product's lifespan.
Last but not least, a mascara tube must be screwed tightly. It's important because the cosmetic might contain vaporous oils which evaporate if exposed to air. As a result, the mascara loses many of its properties. Therefore, in order to avoid pumping air into the tube, which accelerates mascara drying, the brush must be inserted slowly and gently.