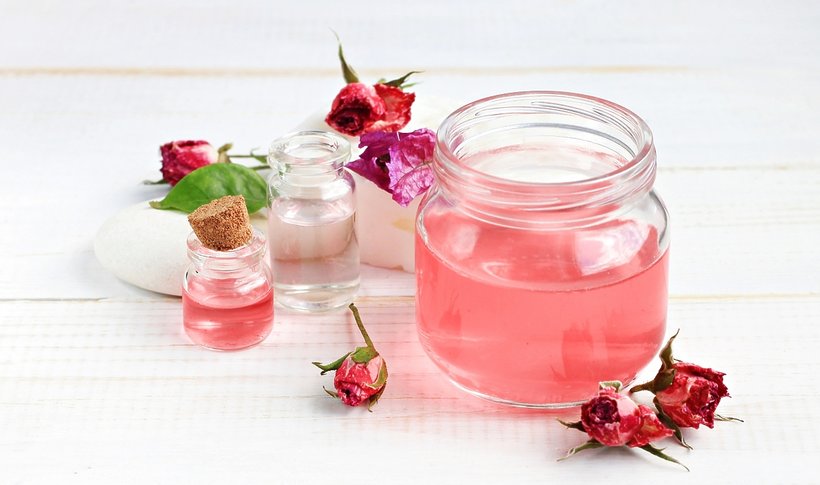 Rose water has toning properties, soothes skin irritations and rejuvenates. For this reason, it is often used in SPA salons for face care treatments. In addition, it is an obligatory component of relaxing baths. What other properties and use does rose water provide and how to make it yourself?
How is rose water produced?
Rose water is a residue of the distillation process of rose petals with steam. Although it is a side effect of producing rose oil, it has a number of beneficial properties. Its fragrance is more delicate than the aroma of the rose oil. For the production of rose water, the Damascena rose is used most often, and rarely – the Provence rose and the French rose.
How does rose water work?
Rose water, like any other natural hydrolate, has a pH close to the natural skin and is rich in bioflavonoids, including quercin. Bioflavonoids are substances that give the plants their color and also, rose water owes them its antioxidant properties. In addition, due to the content of beta-carotene, rose water has antiseptic, anti-inflammatory and soothing qualities, while the B group vitamins reduce tension and keratinization of the skin. The vitamins C and E contained in the water provide the skin with proper hydration and slow down the process of wrinkles formation. Vitamin C additionally strengthens capillaries.
The rose water contains volatile essential oils that are responsible for its subtle fragrance. The latter has aromatherapeutic properties and improves our well-being.
Because rose water has a soothing effect, it is recommended for people with acne-prone skin. It should be mentioned that rose water may support acne treatment therapy but not comprise its base. In addition, rose water cleanses and improves skin tone and gives it a healthy color. It is an ideal toner for every skin type, because it does not affect its protective hydro-lipid layer.
Rose water – properties
Rose water improves the tone and color of the skin, and also cleanses, moisturizes, smoothes and softens it. In addition, it has antiseptic and anti-inflammatory properties. Rose water soothes irritated skin, reduces redness and acne, brightens the skin and eliminates blemishes. What's more, it balances the acidic pH of the skin. It's also worth mentioning that rose water improves the mood and gives energy. Cosmetics based on it can be found in every store. They have anti-aging and anti-wrinkle properties. Rose water effectively nourishes even sensitive skin, which is why it is especially recommended for its care.
Rose water – use
Rose water on the skin
Rose water is a component of many creams and masks dedicated to the face care, intended for different skin types: it cleanses the normal skin, helps to control the secretion of sebum on oily skin and brings relief to sensitive skin. In addition, it supports the treatment of wounds and sunburn regardless of the skin type.
Rose water for hair loss
Rose water is a valuable addition to cosmetics intended for hair care. Its regular use reduces the inflammation of the scalp and accelerates blood circulation and hair growth.
Rose water for fatigue and depression
Whenever we are nervous or tired, we can take a bath with rose water. It will improve the mood and relax us. Because our mood is reflected by our appearance, after such a bath, not only will we feel better, but also our appearance will be enhanced. We will look fresh and radiant, and consequently, younger.
Rose water for headaches
I think each of us experienced headaches at least once in their lives. Drugs quickly eliminate pain, but do not remain indifferent to the body. Fortunately, there are less invasive ways to get rid of a migraine, for example, a cold compress based infused with rose water. Just put it onto your head and leave it for 45 minutes. After this time, the pain should go away.
Rose water on teeth
Rose water is also recommended by dentists who use it to treat periodontal diseases. Wraps with cotton pads soaked in rose water will work well during gum inflammation. A rinse based on warm rose water will be equally effective. Its regular use will soften gingivitis, strengthen teeth and solve the problem of unpleasant odor.
Rose water – how to do it?
To prepare rose water, you will need to collect about 250 grams of rose petals. They must be clean, that is, free from any pesticides. It's best to collect them in the morning. Then, take a large colander and rinse the petals with a strong stream of cold water. Later, place them on a thin, cotton cloth and wrap in a sack. Next, place it in a glass bowl, then pour boiling water that will barely cover up the petals. Then cover the dish with food foil and secure it with a rubber band. The mixture should be left overnight so that the infusion will be well saturated. In the morning, pour the water into the jar, and squeeze out the remains of the brew with a cloth and pour it into the jar.
The ready-made rose water should be stored in the fridge in a sealed jar no longer than two weeks. If you freeze it in small containers, it will be useful during the next 6 months.