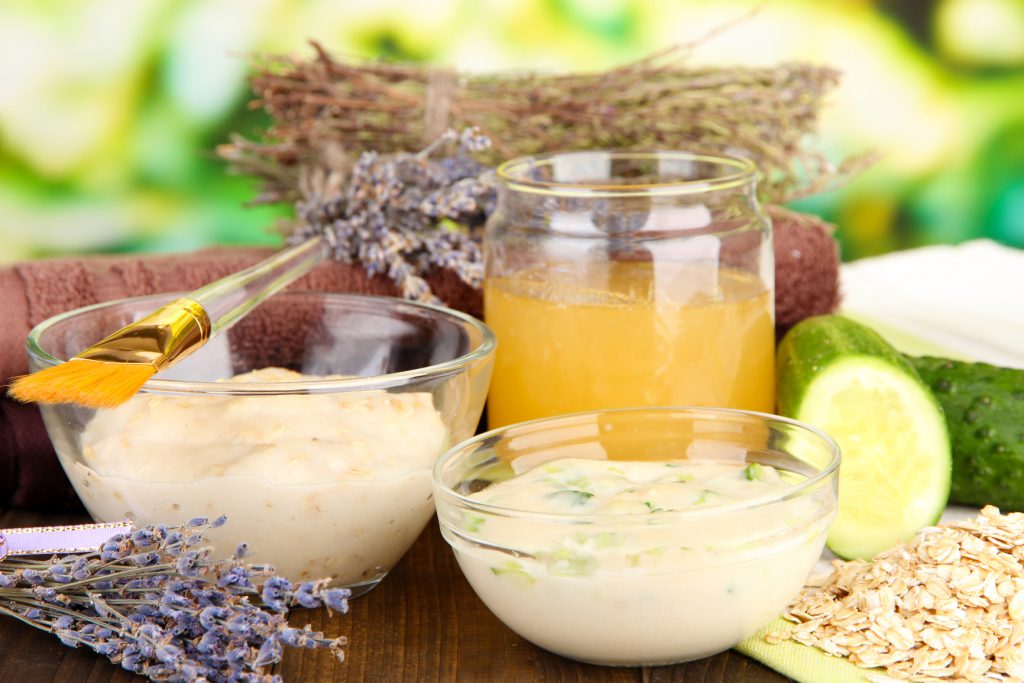 Natural face skin care is simple and uncomplicated, but just seemingly. It appears, however, that only premium beauty products that are composed of quality ingredients are able to affect facial skin positively. It's typical for natural cosmetics to help us deal with various ailments like acne or skin dryness. While choosing them it's worth paying attention to the composition because producers like to lure the clients with nice-looking packaging that is wrongly associated with eco products. However, it may happen that the very product with eco-friendly-looking packaging doesn't differ much from the a regular cosmetic which composition is often made from synthetic substances. Undoubtedly, natural cosmetics are getting more and more popular. Today, we're going to give you a hint how to choose them and which ingredients should you look for.
1. Natural face cleansing products
Perhaps no one can imagine taking care of their face without washing it properly. It's worth realising that micellar lotion – even if composed of natural and high quality ingredients – isn't enough to free facial skin from makeup products, impurities, toxins and sebum.
One of the most popular and the most recommended products to make face skin clean are face gels. They are more gentle in action then regular face washes. However, quite recently these natural face gels have been slowly being outclassed by other products – delicate face foams that are composed of natural, bio and veggie ingredients. In most cases, such products contain natural oils and plant extracts (e.g. aloe, iris, cranberry, blackberry, lavender) as well as hyaluronic acid and sea water. The producers of natural cosmetics launch entire series of cosmetics that targets various skin problems.
One of the best, cheapest and delivering outstanding effects agents to wash all face skin types with is black soap (e.g. dudu-osun) that is made of black olives. It's really good at cleansing skin and stimulating self-regenerative processes of dermis. Basically, there are different versions of black soap available. Thus, you can come across black soap with laurel oil or black soap with argan oil. Last but not least, black soap doesn't disturb natural pH level of skin, doesn't dehydrate it but leaves skin perfectly cleansed.
2. Natural face toning products
The last step of face washing should depend on applying a toner. Many people resign from doing this because most of us are convinced that using micellar lotion is enough to restore the right pH level to skin. Sadly, it turns out that this inconspicuous toner is one of the most essential and irreplaceable elements that should be included into daily face skin care. It doesn't only balance skin's pH, tones it, softens and soothes but also its active substances are able to reach deeper to help skin absorb nourishing substances better. For natural face care you can also use herbal distillate (flower water) that is produced while distilling fresh plants due to steam. The real gem among all natural toners is rose water. It serves well if you want to replenish your skin with water and smooth out your face. Also, rose water works soothing, rejuvenating and anti-oxidative. Other fairly popular hydrolate waters are the ones made of witch, orange flower and lavender. The last thing to remember is to choose a toner or herbal distillate stay cautious because this product might contain alcohol. This might result in dehydrated and irritated face skin.
3. Natural cosmetics for makeup removal
Recently, women have started using natural oils to remove their makeup with. This long-known procedure of treating skin with natural oils is slowly getting more and more popular because it turns out that natural oils are good at removing oily foundations, sebum and impurities. Apart from their cleansing action, natural oils condition skin and rejuvenate it. Moreover, natural oils wipe off even really heavy makeup along with all the impurities that gathered on skin throughout a day. This treatment is called OCM (oil cleansing method). If you want to know how to carry out makeup removal with oils, just find a tutorial on the Internet. Many vloggers have such videos posted on their profiles.
However, in short, this process looks as follows: you have to dampen your face, best if in warm water (some use herbal distillate), then apply oil and massage it into face, after that you have to remove it with a microfibre cloth and wash your skin with cool water. Then you have to repeat the procedure a few times so as to wash face thoroughly and free it from impurities. It's worth mentioning that massage performed during OCM delivers rejuvenating action. Last thing to mention is that removing the oil is crucial because its residues might clog skin pores.
Sadly, many readymade cosmetics are paraffin-based, which is a crude oil derivative – natural but not so beneficial substance. Therefore, while buying a readymade product, check whether it contains paraffin (it also clog skin pores). However, if you are not fond of OCM, reach for natural, micellar makeup removers. Many of them know how to deal even with waterproof makeup.