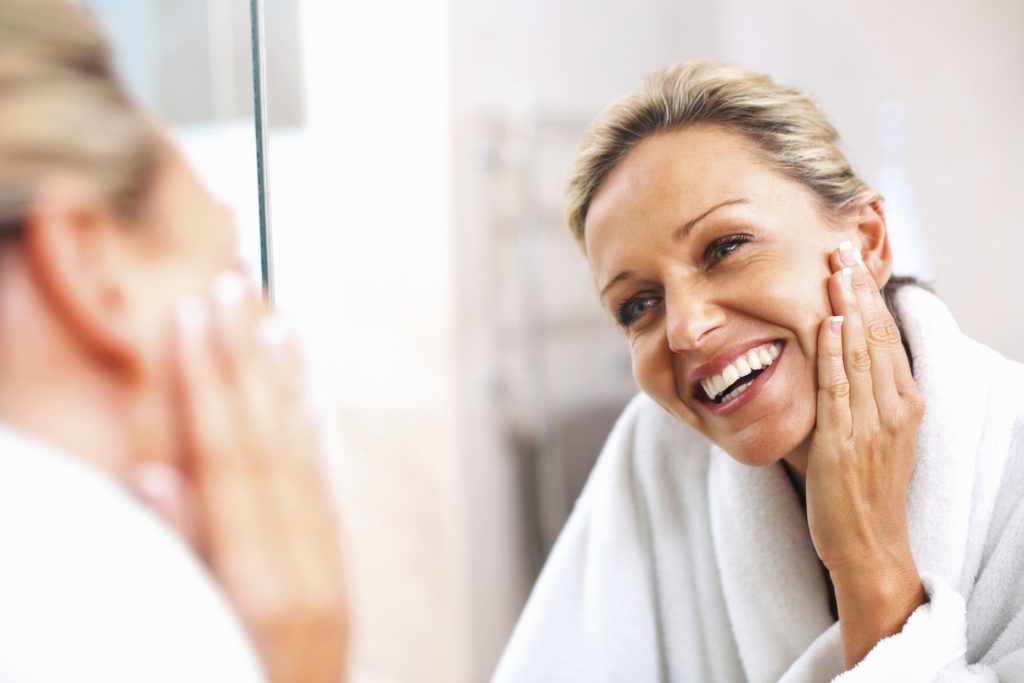 It is difficult for a woman to admit that her skin is aging and that it's no longer young. We want to feel young so we even tend to delay the purchase of anti-aging cosmetic products. Unfortunately, this contributes to the lack of hydration, discoloration and wrinkles. What are the other mature skin problems that occur if we don't take proper care of our skin?
Often, we don't realize that in dermatology the skin of a person who is over the age of 25 is referred to as mature. This is the age when the production of collagen and elastin begins to decrease. This does not mean, however, that by this age our face starts to look like a dried plum.
Skin aging is a very slow process. If you reach for anti-aging cosmetic products right in time, you can delay the process. On the contrary, if you don't introduce proper care of mature skin into your daily rituals, you can quickly spot one of some problems with your skin.
Mature skin problems – dryness
One of the first problems with the aging skin is excessive dryness. It begins to lack hydration as the ability to bind water in the epidermis weakens. As you know, water is essential for regeneration and, above all, for maintaining a beautiful appearance.
Because of the lack of proper hydration, the mature skin:
becomes dull, rough and sallow;
it starts to look like thin parchment;
is much more susceptible to irritation;
regenerates slowly;
loses its elasticity and softness.
Mature skin problems – wrinkles
Another problem that we notice quickly is the loss of elasticity. The skin gradually becomes less elastic and prone to wrinkle formation.
The first wrinkles (usually the so-called 'crow's feet' around the eyes) may appear before the age of 30 and are caused by the changes in our skin. With time, the production of collagen and elastin decreases, which makes the skin's 'frame' to weaken and get flabby. The shape of the face changes and then slight wrinkles appear.
The first wrinkles we usually treat as a sign of our skin aging. Although there are many problems with mature skin that don't only affect the loss of skin elasticity.
Mature skin problems – discoloration
The third sign of skin aging is discoloration. They appear on the face due to the negative effects of various factors. Most often it is the result of photoaging of the skin, so the deterioration of its condition as a result of sun exposure and the lack of protection from UV radiation.
Discoloration can take many forms. Such patches appear on different parts of the face, they can be dark or light, and also have a varying size or shape.
If you notice discolorations on your face, cleavage or neck, which have a dark brown color, you probably have to deal with the so-called age spots. They should not be confused with ordinary patches after tanning, because they are permanent and are the result of skin aging, not a temporary change in pigmentation.
Mature skin problems – marks
By far, the most serious and dangerous symptoms of skin aging are marks (nevus). These are various types of changes, sometimes yellow or rough. Most often they are small, but they can also have 2-3 centimeters (this, however, happens less frequently).
Are such skin lesions a problem that should be taken of? It it advisable to consult such marks with a dermatologist, because the older the skin is, the more dangerous the changes. With time, the body is less effective in defending itself from abnormal cell division, which can lead to cancer. If you want to avoid it, the most important is sun protection and proper care.