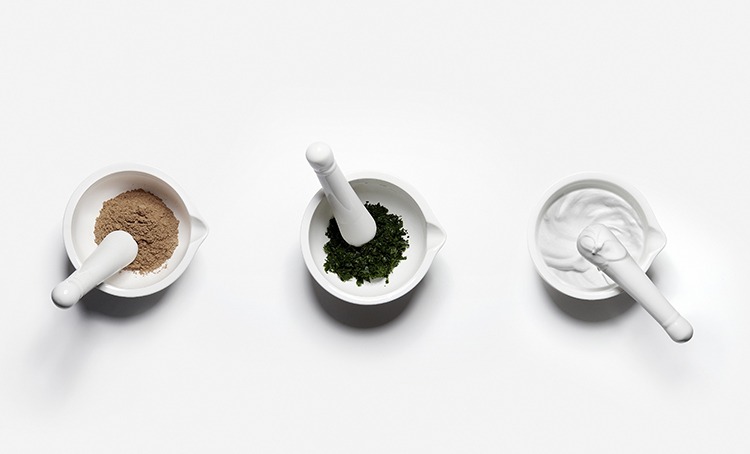 Panthenol is a well-known component of many skincare cosmetics. It naturally occurs in our skin, which is why it is tolerated very well by it. Panthenol does not cause irritation, and what's more, it is considered to be very gentle and highly effective at the same time. What are its properties and how to use it? Let's find out! 
What exactly is panthenol?
Panthenol (dexpanthenol, D-Panthenol) also known as provitamin B5. It is a derivative of vitamin B5, or pantothenic acid, a substance naturally found in the skin, hair, and nails. The deficiency of this vitamin can result in skin flakiness and acceleration of hair graying. If we want to avoid it or alleviate the symptoms, then go ahead and use panthenol. The substance penetrates deeper layers of the skin, hair, and nails, and is transformed into pantothenic acid. It's also worth remembering that panthenol exists in two forms: L and D; only the latter transforms into pantothenic acid in the skin. D-panthenol is a thick, viscous and oily liquid that needs to be processed before it becomes one of the cosmetics ingredients. That's why water solutions of panthenol are used in skin care products.
Panthenol and its properties
Panthenol's action is really effective. It affects hair, skin, and nails:
it brings relief and regenerates – accelerates wound healing and minor skin damage, helps in the treatment of burns and scars;
it moisturizes the skin – softens and makes it elastic, prevents water loss through the epidermis;
it strengthens the epidermal hydro-lipid barrier – the skin is moisturized and stops flaking;
it improves hair structure – thickens, strengthens, polishes, softens and prevents hair ends from splitting;
it regenerates the nail plate – strengthens and prevents damage;
it provides anti-wrinkle qualities – smoothes wrinkles, softens, moisturizes and firms;
it is not comedogenic – it does not clog the pores of the skin;
it can be used on mucous membranes – it has a regenerating, soothing and moisturizing effect;
it antibacterial and anti-inflammatory properties.
Panthenol -use
Panthenol is used in many cosmetics for the care of the skin, hair, and nails, for instance:
balsams, after sun creams  – thanks to panthenol content, they accelerate the formation of melanin, protect the skin against redness, itching, and flakiness;
hair shampoos and conditioners -they smooth, polish, strengthen, thicken, moisturize, act against dandruff and stimulate hair to grow;
hand and nail creams – panthenol smoothes, regenerates, strengthens and prevents splitting;
nail polish – it rebuilds the nail plate damaged by frequent manicure and protects it against the harmful effects of polishes and external factors (detergents);
cosmetics for sensitive skin – support skin treatment and regeneration after minor dermatological treatments;
eye drops and contact lenses – support the regeneration processes of the cornea, moisturize the eyes and protect them from overdrying, tiredness and irritation;
nasal drops – take care of damaged nasal mucosa during a cold or allergy.
How to use panthenol?
A cosmetic with panthenol (usually in the form of a foam) is to be applied to the damaged skin surface once or several times a day. Shake the packaging well before each use and then close it carefully. If the product is used on the face, make sure it does not get into the eyes, mouth or nose. Panthenol is to be sprayed on the hand and then applied to the complexion. It is highly unlikely that it causes any allergic reactions itself.