It's a star among girls with the sensitive skin. It's a saver if you have split hair ends. Coconut oil turns out to be a remedy for dry hands, too. What are its properties?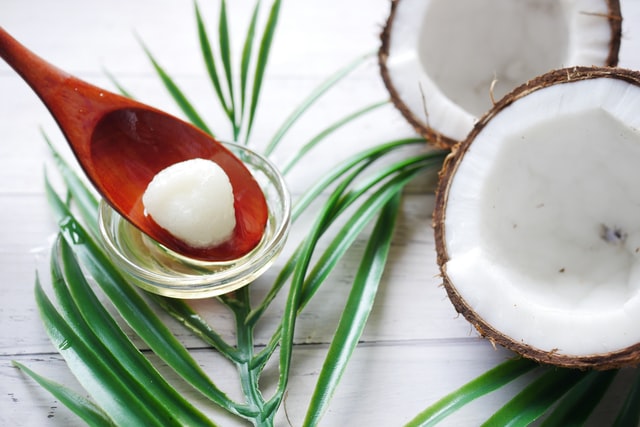 Coconut oil has been at the peak of its popularity for long months. It's one of the best-selling oils (next to argan oil). We quickly took it out of the kitchen because it's second to none for enhancing the looks. It's all-natural, doesn't cause allergic reactions and is famous for its moisturising, nourishing and anti-bacterial properties.
Coconut oil has lots of uses and replaces many beauty products. It gives amazing body, face skin and hair benefits. How does it work for hands?
Coconut oil – a natural hand lotion
Rubbing coconut oil into nails or hands regularly is a brilliant idea. It's an ingredient which works as a substitute for a hand lotion (which is often infused with Cocos Nucifera Oil). Being natural doesn't mean that the oil's action is poor. After just several days of applying an unrefined, cold-pressed coconut oil, you clearly spot the difference.
Coconut Oil Hand Skin & Nails Benefits
brings hydration back, eliminating dryness,
makes nails stronger, reducing splitting and breakage,
gifts the hand skin with softness, smoothness and nutrients.
Delivering essential vitamins (E, C, K) and minerals (zinc, iron, calcium, potassium, magnesium) with coconut oil is an easy way for reinforcing your nails and repairing the hand skin. Fatty acids, included in coconut butter, ensure extra protection and a hydro-lipid balance. Say goodbye to dry hands!
How to apply coconut oil to hands?
To make the most of the oil, you must know how to apply it the right way. It's a good thing that coconut oil melts above 25 degrees – it's easy to apply. Pick up some oil and spread it onto hands like any other hand lotion. A gentle massage helps the oil penetrate the skin. Apply coconut oil to your hands regularly e.g. every evening.