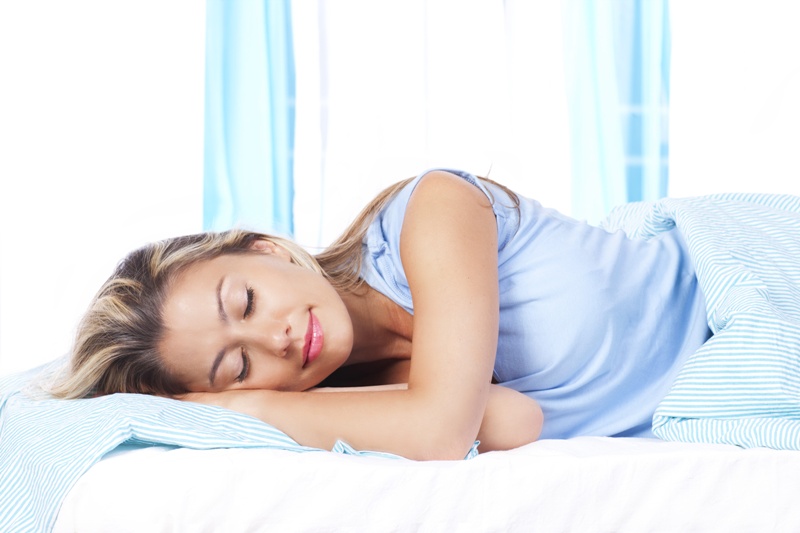 Career and being overloaded by household chores make us lack time for the decent beauty routine. The problem is common mostly among young moms as they usually suffer from the permanent lack of time. Is there a way to keep the skin from suffering even when the schedule is filled up? Naturally! Take advantage of the incredible power of sleep and provide the skin with the proper repair. It is an amazing idea both for young moms and all busy women out there – night beauty care will do everyone good. Check how to enhance the good looks and be stunning no matter running out of time.
Sateen or silk pillowcases
It happens that a slight change in your daily habits boosts the quality of your skin and improves your sleep comfort. That is why you should change your pillowcase for a sateen one. Cotton harms the hair and skin, which has been scientifically proven. Cotton cases give the most pressure on skin (triggering wrinkles to appear) and cause hair breakage. Sateen or silk are much more gentle so the risk of brittle strands is reduced. Simply put: if you want to have silky smooth hair and skin, sleep like a princess!
Treat your feet gently
If you have no time for pedicure, there's an easy way to smooth out, moisturise and repair the skin. Cotton socks are all you need. Before sleep, massage a thick layer of vaseline, rich cream, a foot lotion or (preferably) natural butter or oil (Shea butter, coconut oil, almond oil) into feet. A gel baby oil is brilliant, too. Next, put on cotton socks and go to sleep. You 're going to wake up with smooth, moisturised feet without cracks or callus. Do the treatment once a week (in summer) and at least twice a week in winter and autumn.
Smooth, velvet-like hands
Need for hand skin repair but no time for lengthy mani routine? Use the same remedy as in foot care: apply a thick coat of Shea butter, vaseline or hand lotion and put on cotton gloves. You will be shocked by the smoothness of your hands.
In order to take best care of nails, rub in a natural oil or a pro oil-based conditioner (offered by most nail brands). You will keep the nail plate nourished and moisturised.
Boosting skin moisture while asleep
This small change is going to transform your skin forever. Bid dehydration and dryness farewell! Put an air humidifier in your bedroom. Your skin, hair and whole body will benefit. Just remember to keep the water in the device fresh.
Night as an outstanding hairstylist
If your hair looks like a piece of (extremely) avant-garde art, strands go in all directions and you simply can't tame them – style while asleep! There are lots of ways to do it: braids, loose buns,etc. After waking up, you let down the hair and run your fingers through it to get a storm of curls or flowing waves. Before sleep, rub a little of natural oil in for the nighttime hair repair. A leave-in conditioner will also work. It will have lots of time to absorb.
Nighttime cream-mask for flawless skin
Because key repair processes take place in skin at night – why don't you make use of it? After precise cleansing, apply a specially-designed night mask – while you sleep, the product has lots of time to gradually penetrate the skin, repairing and nourishing throughout the night.
Smooth, kissable lips without effort
Say goodbye to dry, chapped lips: before nodding off, apply a thick layer of honey or coconut oil to see smooth, soft, stunning lips in the morning. During the day, apply small amounts of Shea butter: put it in a tiny jar and carry it in your bag instead of a lipstick.
Up-to-the-sky lashes
Night is perfect time for lash nourishing and enhancing routine. If you dream of long, full lashes – get a lash growth serum and apply it to dry eyelid skin (on the lash line) in the evening. After around four weeks, you'll spot longer and thicker eyelashes. The best lash serums are equally effective in eyebrow care.