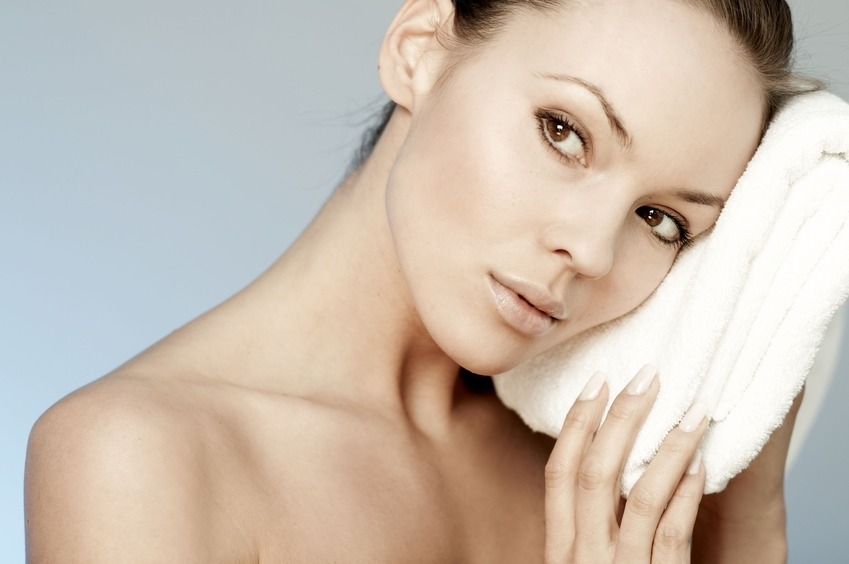 Cleansing face with oils sounds a little bit controversial for quite a number of people. Actually, it isn't surprising since most of us is rather put off by the idea of applying a greasy substance to their faces daily. However, it appears that oils aren't only good at removing makeup but also they know how to 'fix' the skin. Is OCM really that beneficial for skin? How to carry out the procedure properly and which oils are the best to perform OCM?
What's OCM?
OCM is an abbreviation of Oil Cleansing Method. It's a powerful technique for making face clean due to oils and, although it might be hard to believe, all regular face washing gels, foams or soaps cannot hold the candle to OCM. This method's efficiency is based on a very simple rule saying that fat is good at dissolving and removing other type of fat. In other words, there is nothing what would free your skin from sebum residues, oily foundations, impurities and other colour cosmetics better as natural oils do.
How OCM affects skin – Properties
OCM is a technique offering more than just cleansing skin from the cosmetic residues. Apart from gathering heavy and fatty foundations, residues of mascara and even eyeshadows, oil facilitates taking off sebum, toxins and impurities. Basically, OCM is a really well-thought-out method owing to which you can unclog skin pores to cleanse them better than with any other foam or gel.
Advantages of OCM
Cleansing face with oils has plenty of benefits. Here are some of them:
oils are natural and free from synthetic substances (you apply a cosmetic that doesn't contain parabens, SLS, preservatives or silicones);
OCM frees skin from sebum effectively;
it handles the problem of excessive sebum production;
oils are said to be the best ones to remove heavy cosmetics from face;
oils contain precious for skin vitamins (E, C, A);
oils are a source of flavonoids and phytosterols that regenerate skin and slow down aging processes;
OCM unclogs and cleanses skin pores;
face massage combined with OCM rejuvenates, improves face oval, makes skin more supple, reduces wrinkles;
OCM doesn't irritate skin, doesn't disturb hydrolipid barrier;
oils protect from irritations, soothe and relax face;
OCM regulates sebum production and restores fat balance.
The secret of proper OCM – Good proportion of oils
The blend of oils used to cleanse skin can be prepared on one's own. Each skin type requires different set of oils mixed in various proportions. Basically, each oil blend should be composed of two oils. In its basic version, it frequently features castor oil and a base oil that answers skin needs. With time the number of base oils can be increased, which means that it's a good idea to start combining tried and tested oils. The simplest blend looks as follows:
base oil (matching skin type),
castor oil (in right proportions, answering skin needs).
How to apply and work out proportions of the two oils? We suggest taking advantage of the below recipe:
dry skin – 90% of base oil and 10% of castor oil;
normal skin – 80% of base oil and 20% of castor oil;
oily skin – 70% of base oil and 30% of castor oil.
It's worth bearing in mind that the proportions of oils is frequently a very subjective issue. To clarify, everyone has to discover it on their own by trial and error method to find out which oil designed for either dry or oily skin serves their skin better.
OCM – Castor oil and its alternatives
Many people wonder why OCM oil blend contains castor oil. In plain English, its composition is close to human sebum composition so it plays in tune with our skin really well. Despite its skin cleansing features, castor oil displays drying properties. For that reason, you must pay close attention to how your skin reacts to castor oil while carrying out OCM. It's also worth mentioning that some people are allergic to castor oil. It doesn't happen frequently though, but still it's better to observe skin and if any disturbing reactions occur, you should reduce castor oil proportion in the blend or replace it with another oil that also contains squalane (e.g. jojoba oil).
OCM – How to match base oil with skin type?
Which oil would be the best to use for OCM? At the beginning, you can make use of the following information. Still, bear in mind that some people heaving dry skin are better off with almond oil, whereas others notice more satisfying results after treating their face with apricot seed oil. It all depends on your skin preferences.
The best oils to use for OCM
couperose skin – helichrysum oil, hazelnut oil;
oily skin – linseed oil, black cumin oil, bay oil, jojoba oil, walnut oil;
combination skin – grape seed oil, jojoba oil;
normal skin – avocado oil, grape seed oil, olive oil;
dry skin – sweet almond oil, apricot kernel oil, wheat germ oil, avocado oil;
mature skin – argan oil, macadamia oil, pomegranate seed oil, raspberry seed oil.
OCM: How to carry it out properly? Step by step guide
Spread the blend over your clean fingers.
Keep massaging the oil slowly and delicately (by massaging your face you stimulate blood flow and help skin 'give back' all the toxins it gathered).
Dampen a clean cloth or towel in a very warm water. Actually, you can make use of muslin cloth or terry nappy. People whose skin is couperose should use room temperature water.
Put the cloth on your face and let it sit there for a moment. You can take it off when you feel that it has lost its temperature. Now, you can wipe your face with the cloth so as to remove oil, cosmetic residues and sebum that gathered on your skin surface.
Repeat the procedure 2-3 times, rinsing the cloth precisely each time.
At the end, wash the cloth in cool water and put it on your face for the last time to close skin pores.