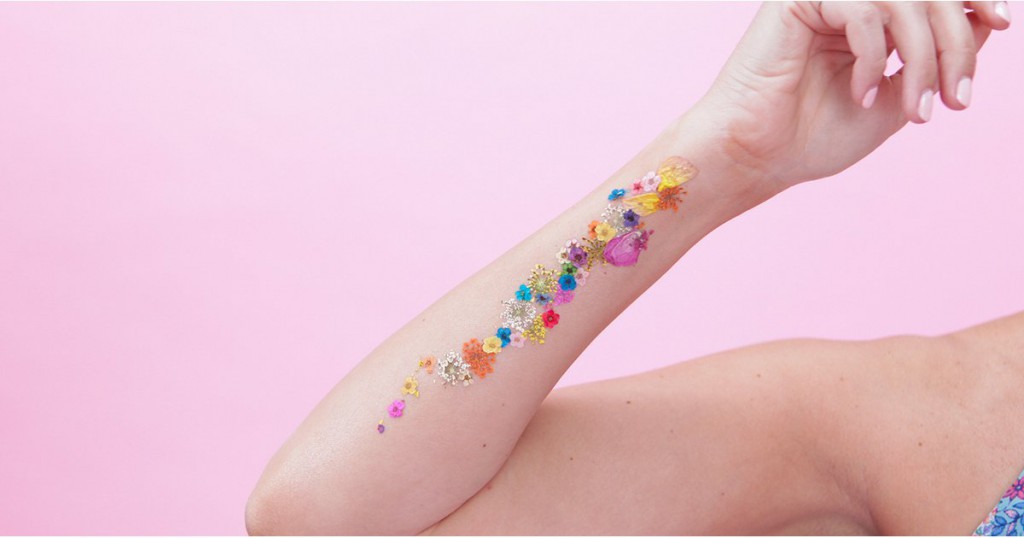 Trend for naturalness in make-up and body care is making its way through other beauty aspects more and more frequently. Natural tattoos? Go for them! The ones made with dried flowers are conquering the net as being a great alternative to henna.
Contemporary tattooing techniques offer limitless possibilities to decorate bodies. Some works of tattoo artists are so realistic and finely done that they can be easily mistaken with real objects. However, 3D tattoos are good only for permanent tattoo fans.
Lovers of delicate body decorating went crazy about a new trend which pressed flower tattoo is. Eco maniacs will be amazed at the simplicity and effectiveness of the procedure. The best part about is that real dried flower temporary tattoos don't require reaching for henna.
Natural and safe
It may seem that dried flowers are a perfect substitute to, for example, people who are allergic to henna. Naturally, providing that we aren't allergic to any of the flowers that we want to attach to our skin in their dried form. Nevertheless, there is just one henna, and hundreds of flowers among which we can choose the ones we would like to use to decorate our bodies. It's the naturalness that wins here.
Out-of-the-ordinary flower art
Tattoo made of dry flowers is a kind of art. Thanks to this method of body decorating, each woman can transform her body into a charming nymph. When mixed with natural make-up, boho styling or hippie, flowery tattoos look really superb. These pose a perfect decoration for a summer festival or a picnic. Delicate flowery motives are willingly chosen mainly by young women.
Real dried flower tattoos
Are a temporary, charming and very feminine body decoration.
Can be done on one's own.
Are made of natural elements only.
Perfectly match boho or hippie style.
Delicately smell like flowers.
How to do temporary dried flower tattoos?
1. You need flat dried flowers
You can dry out flowers in a regular way by pressing them between book pages, but it occupies much time. The alternative is the use of microwave. Here, you'll need two plates, two leaves of paper towel and, of course, flowers. Put one paper towel on the plate to place the flowers there (one next to another), which have to be covered with another leaf of paper towel and pressed with another plate. Put it into the microwave for 30 sec., take out and rapidly put the dried out flowers onto a separate dry towel.
2. You have to attach the flower pattern to your skin
Precisely dried out flowers have to be attached to the skin; you can use an eyelash adhesive. It's safe for skin, colourless and will stick the flowers to the very place you want them to be. Apply the adhesive with a thin layer and then place a flower there. The last stage is to fix the tattoo using either a hair spray or a make-up fixer.