Without doubt, activated charcoal is still one of the most wanted cosmetic constituents. This game-changing ingredient that many personal care products are formulated with has been also proved to deliver extraordinary results in hair care. It appears that when treated with activated charcoal, hair becomes fresh, is glossy and looks as if it was exposed to some expensive in-salon hair treatment. In a moment you'll learn some info about one of the world's most beloved hair masks – NANOIL Charcoal & White Clay Hair Mask. Are you wondering now whether this cosmetic would be able to improve your hair too? Carry on reading to find out why Nanoil hair mask with activated charcoal is NO 1 in hair care.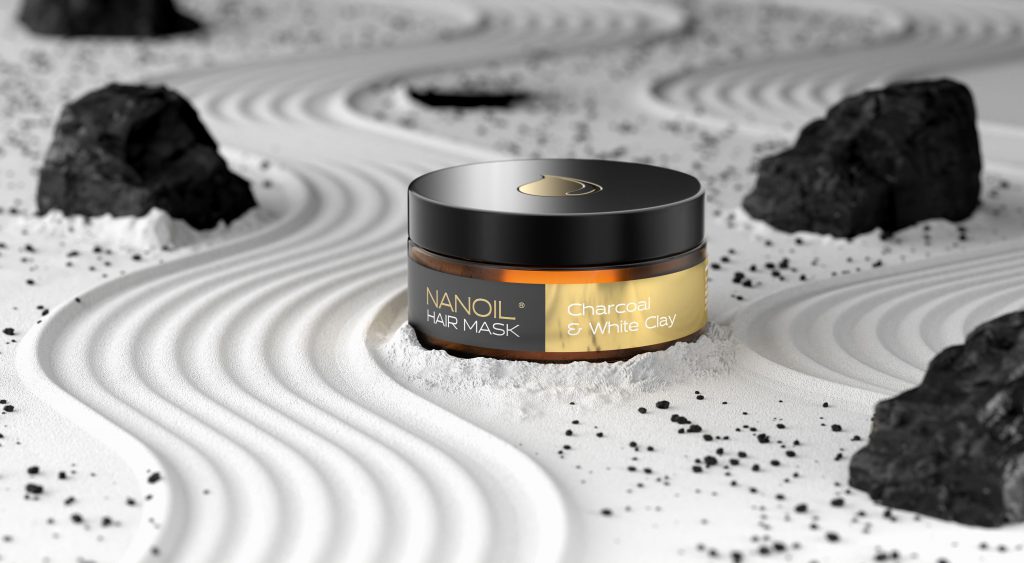 Does your hair feel heavy? Does it get oily too fast? Does it lack shine and resilience? We know that we've already asked you many questions but there is just last one. Do you think that urban pollution, UV rays and the majority of regular hair care products ruin your strands? If you answered positively to all the questions, this means that your hair needs help. Luckily you can provide your tresses with the finest form of regeneration thanks to NANOIL Charcoal & White Clay Hair Mask. This hair mask doesn't only free strands from grime and leaves them stronger but it also offers an anti-pollution protection, which seems to be a perfect solution for the hair living in big urban areas.
How does activated charcoal work?
Firstly, activated charcoal is remarkably effective against impurities and toxins. Studies showed that activated charcoal works like a sponge – it attracts grime and dust to later remove it from your body. The same studies also revealed that activated charcoal can absorb a thousand times more toxins than it actually weights! Many cosmetologists and beauticians say that this is the most absorbent cosmetic constituent available for home use.
Wyświetl ten post na Instagramie.
Secondly, activated charcoal is said to be a natural anti-dandruff agent. It's antibacterial and fungicidal, prevents skin infections, leaves scalp perfectly clean and deals with seborrhea. This substance seems to be the finest detoxifying agent that removes: dirt, dust, dead skin cells, residues of hair styling products and the sebum buildup.
When exposed to activated charcoal, hair becomes fresh, clean and supplied with oxygen which considerably and visibly promotes hair growth. NANOIL Charcoal & White Clay Hair Mask leaves hair soft and glossy, it lifts the hair at the roots which translates to the much-needed volume boost.
Activated charcoal in NANOIL hair mask
Once again, activated charcoal that NANOIL hair mask is formulated with is responsible for catching and hold the impurities and toxins so you can remove them completely from the hair while rinsing the hair mask. It even deals with heavy silicones that most hair care products contain, which in fact is pretty troublesome to get rid of unless you use the right and harsh washing agent. Clean hair finally becomes lustrous, light and soft to the touch. Additionally, when the tresses are freed from the cosmetic buildup, they absorb far more nutrients delivered with hair care products, which in turn improves their health.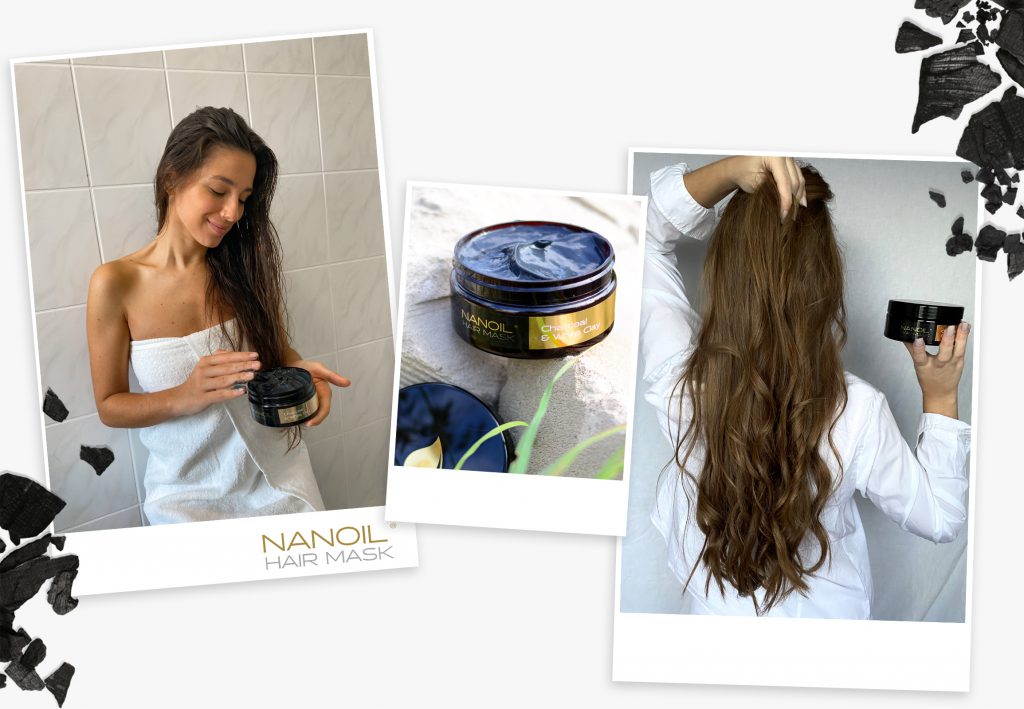 NANOIL Charcoal & White Clay Hair Mask: More than just activated charcoal!
Obviously, Nanoil hair mask doesn't owe its power to one ingredient only. It surprises with the richness of other hair improving substances that thanks to activated charcoal are able to penetrate hair deeply. So, apart from activated charcoal, the jar of Nanoil hair mask also contains:
WHITE CLAY – helps activated charcoal works better, cleanses, nourishes and soothes scalp.
VITAMINS (A+E) – nourish hair deeply, make hair stronger.
PANTHENOL – promotes keratin synthesis and improves hair appearance.
ALGAE – moisturize, regenerate and supply hair with essential microelements.
HYDROLYZED SERICIN – a valuable protein that smooths hair out and makes it soft.
How will NANOIL Charcoal & White Clay Hair Mask benefit your hair?
There are seven ways proving how beneficial NANOIL hair mask with activated charcoal is for hair. It:
makes hair visibly stronger and regenerated.
nourished tresses deeply.
frees hair from toxins, sebum and cosmetic buildup.
has an anti-pollution effect.
deals with bacteria and free radicals.
eases combing and styling.
leaves hair soft, shiny and bouncy.
This innovative charcoal NANOIL hair mask works well no matter the hair types it is applied to, including even the delicate blonde and bleached hair. Let yourself enjoy fresh, lustrous, full-of-life and fully-regenerated hair!