Your face skin needs vitamins! And one of the most precious vitamins that you can supply your skin with is C, also known as ascorbic acid. Naturally, this vitamin has to be delivered to skin with a help of a carrier such as a face serum. Among all the face serums available, Nanoil Vit. C looks really promising. It's supposed to brighten skin up, hydrate and rejuvenate face in a natural way. However, does it really work like this?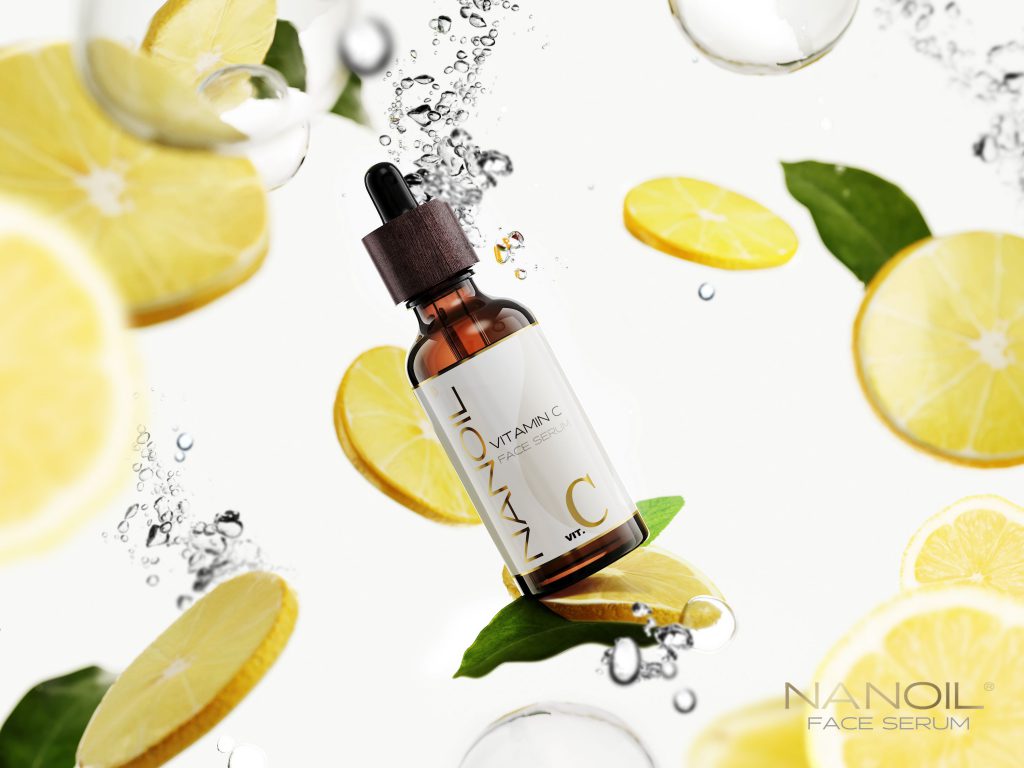 Our knowledge about the properties of ascorbic acid rather isn't broad. In fact, most of us know only that vitamin C enhances our immune system, and that is it. Actually, this is little especially when we realize that scientists have been still discovering many positive effects in skin care that application of vitamin C has. What are they?
Why using skin care products with vitamin C is beneficial?
Our skin desperately needs vitamin C but the human organism isn't able to produce it on its own.
When added to skin care products, vitamin C plays the role of natural sunscreen and protects us against UV rays.
Since vitamin C can be applied to all skin types, it's one of the most universal cosmetic constituents.
Vitamin C doesn't only nourish but also erases discolorations, reduces fine lines, has an ant-aging effect and smoothes skin texture.
These are the most important, yet not the only reasons why incorporating skin care products with vitamin C into daily beauty routine will bring you nothing but benefits. Nevertheless, there is one question left: Which vitamin C face serum to choose?
Face serum with vitamin C by Nanoil
A really good option for those who want to take care of their skin effectively is Nanoil Vitamin C Face Serum – a beauty product that offers well-thought-out composition, better quality and stunning effects; a cosmetic that takes skin care to a whole new level.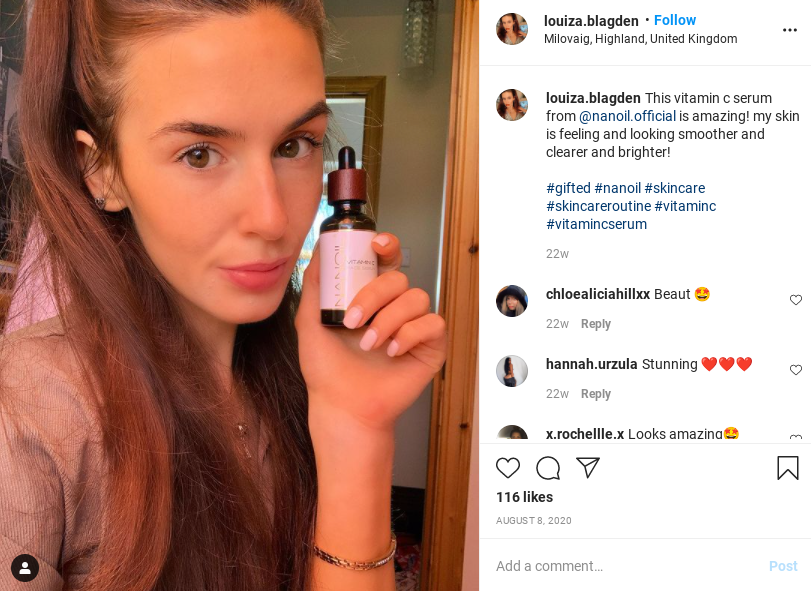 From the consumer's perspective, it does matter that face serum with vitamin C by Nanoil is universal. This means that it can be used by people with various skin needs – it's perfectly suitable for all skin types.
Ingredients and texture that you will fall in love with from the very first use
A well-designed bottle made of dark glass holds 50 ml of substances that deserve a separate paragraph. What does Nanoil Vitamin C Face Serum contain? Substances that your skin needs.
The main ingredient in this lightweight and well-absorbed product is L-ascorbic acid, which is a pure form of vitamin C (a substance that brightens, revitalizes and protects skin). It's accompanied with a plant extract taken from Boerhavia diffusa (a substance that inhibits oxidation and soothes face) and several other ingredients that determine the texture and are responsible for transporting the serum deeper into skin.
Many people should be satisfied when hearing that Nanoil Vitamin C Face Serum is a beauty product containing no parabens or synthetic colorants, and therefore it can be applied even to sensitive skin.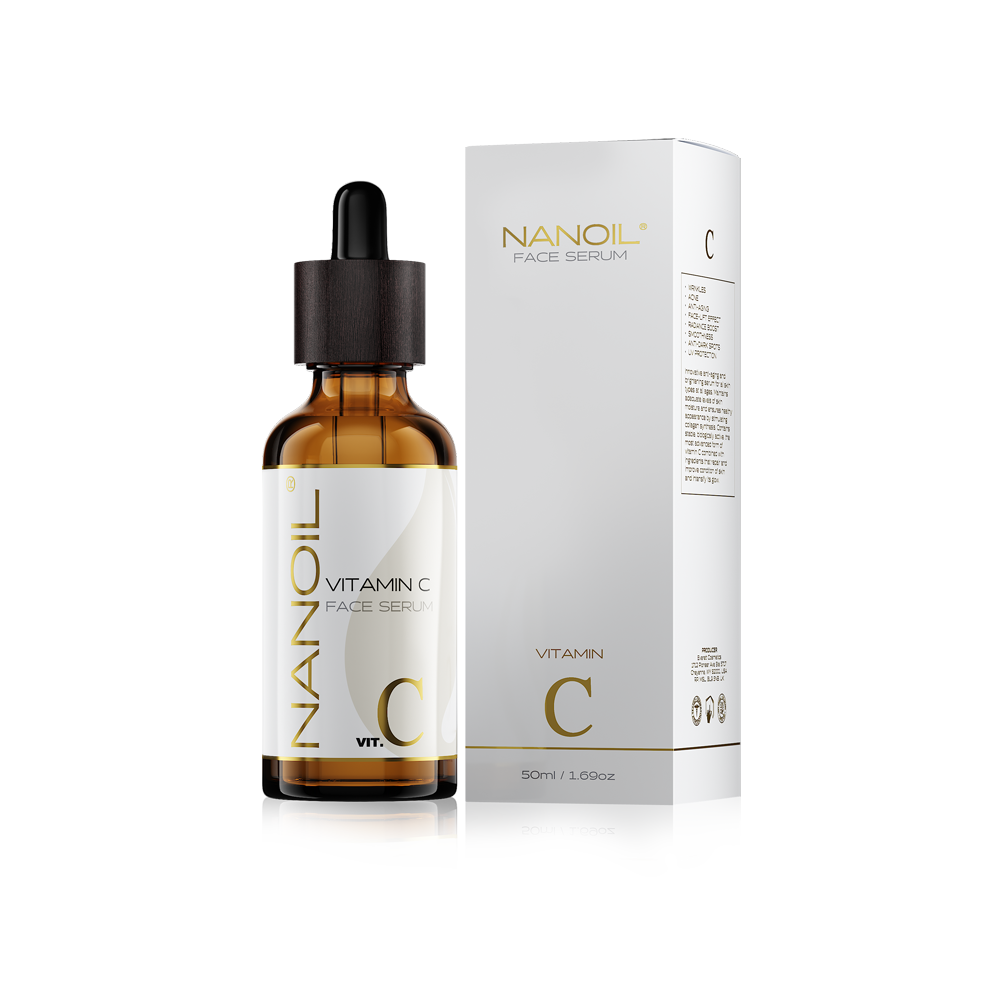 How does face serum with vitamin C by Nanoil work?
Owing to a high vitamin C concentration, this face serum by Nanoil is a really effective product that delays skin aging processes. However, it's not all because when used regularly, Nanoil Vit. C serum can give you more than you expect it to!
Replenishes skin with moisture and revitalizes it.
Reduces fine lines by smoothing skin out.
Has a skin-lift effect and prevents skin from getting flabby with age.
Brightens discolorations and evens out skin tone.
Encourages skin self-regenerating processes.
Restores natural and healthy shine to skin.
Using a small portion of this serum once a day suffices to provide your skin with 100% of essential nourishment and care. This is really simple because a convenient dropper makes the application easy – it picks up the exact amount required for a single application. All you need to do is spread the portion of the serum on your face to enjoy the feeling of immediately moisturized and soothed skin. This is a beauty ritual that occupies just a few seconds a day.