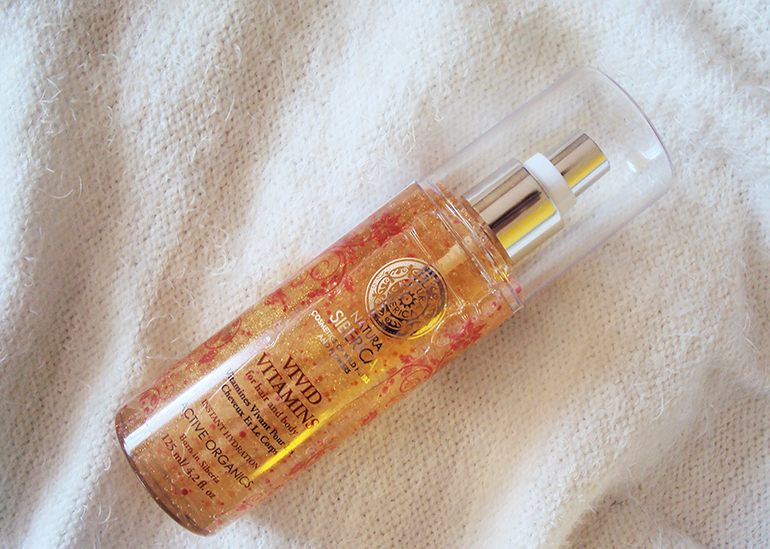 Is your skin dehydrated and damaged due to sun exposure after your summer holiday?
Has your hair lost shine and resilience?
Are you in need of an instant regeneration that will not take too much time?
Go for hair and body spray from Natura Siberica – Vivid Vitamins!
In general, products designed for hair and body regeneration usually come in the form of a mask and involve a long treatment and time-consuming application. They are to be left in the hair for ages and you must be really patient before you see any results. Hair and body spray from Natura Sibirica has been developed especially for women who cannot devote too much time to hair and body care. It is a versatile product that works wonders from the very first use.
It comes in a bottle with an atomizer, and there is 125ml of the product. Inside, you will find a diversity of properly-composed natural ingredients, that will regenerate skin cells, rebuild the hair structure, provide shine and intensify its colour in no time. The product promises the highest-level of treatment and protects the hair and skin from dehydration and loss of elasticity.
Raspberry and wild blackberries extracts are rich in vitamin C and are responsible for hair and skin regeneration.
Japanese Sofora – forces cell regeneration and controls the process of skin renewal.
Wild Rose – contains vitamin B, vitamin E (responsible for hair growth and preventing hair loss).
Honey extract – keeps the proper level of hair and skin hydration. Provides shine and delivers another portion of precious vitamins: A, B, C, E.
Common Wood Sorrel – prevents dehydration, balances the moisture level and restores balance.
Vivid Vitamins hair and body spray from Natura Sibirica is free of silicones, mineral oils, parabens and harmful substances.
The product is quick and easy to use. Simply spray it over the hair and body and allow it to be absorbed. The cosmetic has a wonderful scent and it leaves the skin and hair moisturised without a greasy film. What is more, it can be used in the hand and foot care as well. Vivid Vitamins spray will work wonders especially in Autumn, when the skin and hair lack proper care. Also, it comes in a neat and handy packaging.